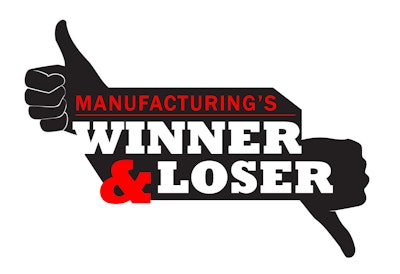 This week's winner is investing in its workers; this week's loser is failing to protect theirs.  
Winner
Ford is making an investment in labor after agreeing to a contract that would add signing bonuses, offer early profit sharing and add or secure 8,500 U.S. factory jobs. This week the company announced it would book a $600 million fourth-quarter expense, primarily for signing bonuses under union workers' new four-year contracts.
Workers will get $8,500 in signing bonuses and $1,500 in early profit sharing, according to the company. Labor cost increases are limited to 1.5 percent each year in the deal with the United Auto Workers.
The deal would allow for a number of things, including wider use of temp workers, lifting the cap on entry-level worker wages and more schedule flexibility, CEO Mark Fields says. The company also agreed to $9 billion in U.S. factory investments.
Loser
Hearthside Food Solutions, the nation's largest cookie and cracker manufacturer, is facing $47,000 in penalties following its third machine-related injury at a plant in northwestern Ohio. The company was cited twice previously for accidents in April and September that resulted in fingertip amputations. 
The Occupational Safety and Health Administration charged the company with five safety violations following an accident in July. According to OSHA, a worker's hairnet was caught in a machine, causing lacerations and severe scalp injuries, requiring a four-day hospital stay. 
"Three times this year, an employee of Hearthside Food Solutions suffered life-altering injuries because the company continues to fail to protect its workers," said Kim Nelson, OSHA's area director in Toledo. "It is disheartening to cite an employer repeatedly for the same hazards."