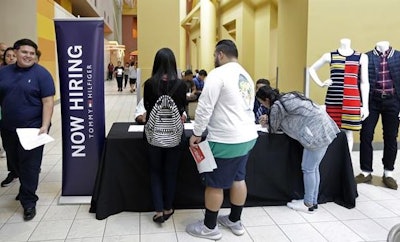 U.S. employers are advertising near-record levels of job openings, though the total slipped in August from July.
Job openings fell 0.9 percent in August to just under 6.1 million, the Labor Department said Wednesday, from 6.14 million in the previous month. July's figure was revised slightly lower but is still the largest number of available jobs since records began in December 2000.
Job openings have risen as the number of unemployed has fallen to the lowest in a decade. The unemployment rate, currently 4.2 percent, has hit a 16-year low. That has left businesses struggling to fill open jobs.
Even so, average wage growth has been sluggish, suggesting that companies aren't offering sufficiently healthy pay to entice workers already employed to switch jobs.
Companies also pulled back slightly on hiring, and the number of people quitting their jobs also fell a bit. Overall, the report suggests the job market was healthy but a little less active in August.
The government reported last week that Hurricanes Harvey and Irma caused employers to shed 33,000 jobs in September. Still, the unemployment rate fell from 4.4 percent to 4.2 percent, as many Americans in parts of the country unaffected by the storms found work. The proportion of Americans with jobs rose to the highest level in a decade.
The two hurricanes are expected to dent economic growth in the July-September quarter, but most economists forecast a bounce-back in the final three months of the year. Rebuilding and repair work should boost construction hiring. And automakers are already reporting higher sales as residents of Texas and Florida replace cars destroyed by flooding.
Job openings rose in August in construction, retail and health care. They fell in manufacturing and in professional and business services, a broad category that includes accountants, engineers, and lawyers, as well as temporary workers.