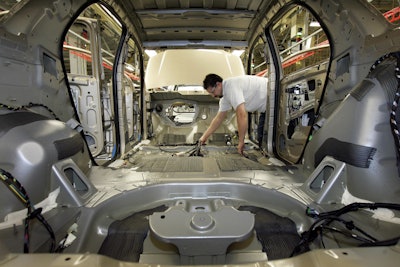 General Motors reportedly planned to lay off more than 250 workers at an Ontario transmission plant this week amid a continued work stoppage at a different Ontario GM facility.

About 2,500 union workers at the assembly plant in Ingersoll, Ont., went on strike early last week after their contract expired.

The Ingersoll plant produces the Chevrolet Equinox sport-utility vehicle primarily with transmissions from the factory in St. Catherines, about 100 miles to the east.

GM told union officials at the St. Catherines plant — which is covered by a different labor contract — that at least 255 of its 350 union workers would be off the job as of Monday, the CBC reported.

The layoffs will likely last longer than the strike in Ingersoll due to a buildup of transmission stockpiles during the work stoppage.

"Even though they were down, we ran all week," Tim McKinnon, chairman of Unifor 199 in St. Catherines, told the network.
GM also said that it would curb production in St. Catherines as well as engine plants in Flint, Mich., and Spring Hill, Tenn.

McKinnon added that his union supports the strike by Unifor 88 members, who want GM to designate the Ingersoll factory as the lead producer of the Equinox amid fears that more jobs could shift from Canada to Mexico.

Negotiations between Unifor 88 and the automaker resumed Tuesday, the Detroit Free Press reported.