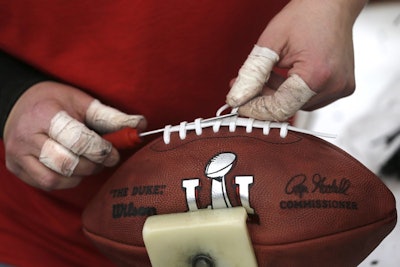 An Ohio factory that makes footballs for the National Football League has been fined by federal regulators over workplace safety violations.
Wilson Sporting Goods is facing more than $65,000 in fines after two inspections at its factory in Ada, which makes about 700,000 footballs each year. The factory churns out footballs used in the Super Bowl and by many colleges and high schools.
The U.S. Occupational Safety and Health Administration says the alleged safety violations are related to failing to cut the power on machines before workers performed maintenance. The agency says one worker lost part of a finger in one accident.
The company didn't return a message seeking comment.
Regulators say they visited the plant in February and June.