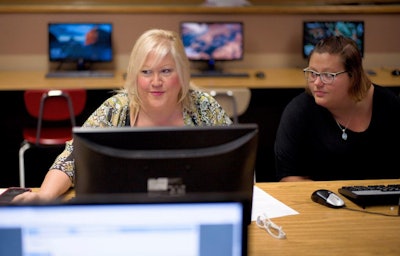 U.S. employers added 209,000 jobs in July, a second straight month of robust gains that underscore the economy's vitality as it enters a ninth year of expansion.
The unemployment rate slipped to 4.3 percent from 4.4 percent, matching a 16-year low first reached in May, the Labor Department said Friday.
But growth in Americans' paychecks — a persistent weak spot since the recovery began in June 2009 — remains stubbornly slow. Average hourly pay rose by 2.5 percent from a year earlier, the same tepid annual pace as in June. That's below the 3.5 percent to 4 percent that is typical when the unemployment rate is this low.
Still, the hiring data points to a healthy economy despite some mixed signals in recent weeks. Employers appear to be optimistic about their businesses and future consumer demand. The solid job gains may also fuel greater consumer spending, which would bolster economic growth.
"The July jobs report is solid from top to bottom — with the caveat that wage growth, while stronger than expected, remains subdued," Andrew Hollenhorst, an economist at Citi.
Hiring was particularly strong in restaurants and bars, which added 53,100 jobs. Education and health care, which includes both higher-paying and lower-paying jobs, gained 54,000.
Manufacturers added a solid 16,000 jobs. Professional and business services, which includes mostly higher-paying jobs such as engineers, accountants and architects, added 49,000.
Retail jobs were mostly unchanged, as brick and mortar shops continue to struggle. Yet transportation and wahrehousing, which has been boosted in recent years by the rapid growth of e-commerce, also barely added jobs.
The solid job market is also reflected in recent corporate moves. Amazon held a nationwide "hiring day" Wednesday in an effort to fill 50,000 jobs. And President Donald Trump has highlighted announcements by Taiwanese manufacturer Foxconn and carmakers Toyota and Mazda to open plants in the U.S.
Overall, hiring this year has averaged 184,000 a month, roughly in line with 2016's average of 187,000.
Other recent economic reports had sent mixed signals. Americans are buying homes at a healthy pace, but car sales have fallen off. Factory production is expanding modestly, but a report Thursday pointed to slower growth among services firms, such as retailers, banks and construction companies. Consumers also turned cautious in June and barely raised their spending compared with May.
The economy expanded at a healthy 2.6 percent annual pace in the April-June quarter, up from an anemic 1.2 percent in the first three months of the year. Still, that leaves the growth at about 2 percent in the first half of the year, the same modest pace of growth the U.S. has experienced since the Great Recession.