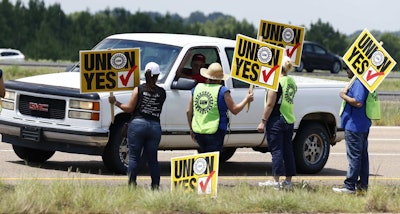 Workers at a Nissan auto assembly plant in Mississippi are voting on whether they want the United Auto Workers union to bargain for them.
Voting among roughly 3,700 production workers at Nissan Motor Co.'s Canton assembly complex concludes at 7 p.m. Friday. The National Labor Relations Board is conducting the secret-ballot election after workers filed for UAW representation in July.
The union has struggled to expand beyond its stronghold at Detroit automakers to foreign-owned plants, especially in the southern United States.
Pro-union workers say the UAW would protect them against arbitrary treatment, and bargain for better benefits and pay. Managers say the UAW would make the plant less economically competitive.
ALBATROSS OR PROTECTOR?
Opponents have focused on claims that the UAW has been an albatross for Detroit automakers, implicitly or explicitly blaming the union for struggles at Ford, General Motors and Fiat Chrysler. Mississippi Gov. Phil Bryant posted a picture of a bombed-out industrial building Wednesday night on his Facebook page, stating, "I hope the employees at Nissan Canton understand what the UAW will do to your factory and town. Just ask Detroit. Vote no on the union."
That's part of a line of reasoning that suggests a unionized Nissan might lay off employees or even close the $3.3 billion plant it opened in 2003.
Union supporters, though, say it's unfair to blame them for the Detroit Three's troubles, saying managers made the decisions on what vehicles to produce and were slow to react to increased competition.
At least one Michigan congressman, Democratic U.S. Rep. Dale Kildee, has taken offense at Bryant's characterization. He says GM has invested billions in his district, which includes Flint, in the past decade. "When workers have a voice, middle-class families win," Kildee said.
ORGANIZING THE TRANSPLANTS
The UAW has failed to organize foreign-owned auto assembly plants in the United States, reducing the union's bargaining power in the industry as Detroit automakers lose market share and close plants. This is the first time workers in Canton have voted on a union, but their Nissan counterparts in Smyrna, Tennessee, rejected the UAW in 1989 and 2001. The UAW also lost a 2014 vote among all workers at Volkswagen in 2014 before winning a second vote among 160 maintenance technicians.
The UAW has failed in its efforts to represent workers at plants operated by Honda, Toyota, Mercedes and BMW. Since Mitsubishi closed its plant in Normal, Illinois, in 2016, no foreign-owned auto assembly plants employ workers broadly represented by the UAW.
POLITICAL OVERTONES
Bryant and Kildee are far from the only political actors to weigh in on the Nissan vote.
Former Vice President Joe Biden, independent U.S. Sen. Bernie Sanders of Vermont and Democratic National Committee Chairman Tom Perez are among the union backers.
In a videoconference Tuesday, Sanders told UAW supporters that the company should: "Start treating your workers with the respect and the dignity that they deserve. Give your workers a seat at the bargaining table. Give your workers the freedom to join a union, so that as a nation we can stop the race to the bottom."
Those opposing the union include Americans for Prosperity, the political arm of the conservative Koch brothers' network. The Mississippi chapter sent 25,000 mailers to Jackson-area homes saying "tell UAW 'No Thanks,'" and has bought radio, billboard and internet ads. Business groups including Mississippi's chamber of commerce and the National Association Manufacturers have weighed in against the union.