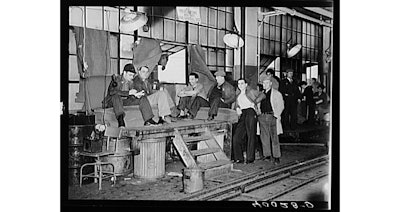 On this day in 1937, a sit-down strike at the General Motors plant in Flint, Mich. turned into a riot when police attempted to stop food deliveries being made to the strikers.
The strike had been taking place for almost two weeks leading up to the riot at the Fisher Body Plant No. 2. The United Auto Workers union, which was founded just two years prior in 1935, organized the strike in order to win better working conditions and job security for the workers. The UAW wanted to win sole bargaining authority for GM's factory workers.
In the riot, both strikers and police were injured. Gov. Frank Murphy had called in the National Guard to surround the plant but decided not to order the troops inside in order to maintain his reputation as a "friend to the workingman."
The strike continued for over a month before GM finally agreed to grant bargaining rights to the UAW and begin labor negotiations. This union victory was quickly followed by a successful strike by Chrysler workers and, in 1941, a contract between the UAW and Ford.
Today, the UAW still exists as the International Union, United Automobile, Aerospace and Agricultural Implement Workers of America.