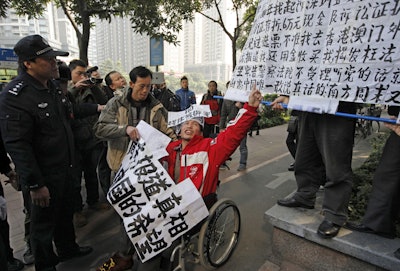 Chinese state media say police in the southern province of Guangdong has detained seven labor activists on the charges that they have improperly intervened with labor disputes, disrupted public order and trampled the rights of workers.
Xinhua News Agency said Tuesday that Guangdong police detained Zeng Feiyang, Meng Han, Peng Jiayong, Deng Xiaoming and three other labor activists, all of whom were taken away by police in early December.
The crackdown on China's nascent labor activism comes as a time when labor disputes have increased rapidly as China's economy slows.
Hong Kong-based China Labor Bulletin reports 2,606 labor disputes this year, up from last year's 1,379. In November, the organization recorded 301 labor incidents in China, the highest monthly total this year.