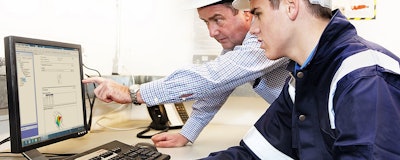 While the rate of digital transformation and technology adoption varies across manufacturing organizations, one thing is certain — organizations need to onboard their employees in a way that enables them to be productive at the onset. Onboarding new employees to their preferences remains a challenge for many organizations. The next generation of employees will be even more connected than today. With Generation Z — the first true digital natives — beginning to enter the workforce, manufacturers need a simple and effective way to onboard these employees. They won't just want a streamlined and technologically sophisticated process — they'll expect it.
As manufacturers prepare to bring in the next generation, they also need to consider the best way to transfer immense amounts of knowledge from older generations, which often isn't documented or in a shareable format for new employees. Important aspects to take into consideration include the appropriate steps in a process, lessons learned and best practices. But without strong onboarding programs in place that provide access to this information, all of that critical knowledge could be lost as older employees leave the organization.
To combat this, many manufacturers are putting technology solutions in place that impresses candidates from the very first impression, because they know the impact successful onboarding has on employee retention.
Promoting New-Hire Success and Retention
According to a study by The Center for Generational Kinetics, organizations have a very short window to create a positive experience for new hires. After just one week at a new organization, 33 percent of new hires know whether they want to stay long-term. That number increases to 63 percent after the first month. By setting up employees with an effective onboarding experience on day one, manufacturers increase the likelihood of those employees staying at the organization.
Onboarding Entanglements
Creating a great onboarding experience is not always easy for HR departments. It is a complex process, involving multiple documents, employee files and tasks. Furthermore, coordinating all those steps can involve many people across different departments in the organization, including security, legal, payroll, IT and more.
In trying to create the best, most efficient experience for new-hires, the biggest problem areas for onboarding are limited visibility, lost efficiency and poor control.
Limited Visibility
Collecting and providing access to new hire documentation is an issue for many organizations. Often they add or maintain multiple file storage solutions, archives, network drives and software systems. The result is a disorganized system with important information scattered in many areas. Without access to all information, such as the status of tasks assigned to coordinating departments or the status of completed key information, an HR department may miss the opportunity to proactively address potential delays and issues.
Manufacturers are seeking technology, such as enterprise information platforms, to capture and store new-hire files and information. These systems collect and consolidate new-hire data and documents, organize that content on a single platform and synch information with core HR applications. With instant access to content whenever needed, HR employees have a 360-degree view of the entire onboarding process and status for each hire. This gives HR managers total visibility, enabling them to quickly address issues and missing documents in advance to ensure the best experience from day one.
Lost Efficiency
Turnover rates tend to be higher for younger generations. Research from staffing agency Adecco found that most 18-24 year olds believe they should only stay at their first job for three years or less. The more efficient the process, the better the experience and the more likely it is that new hires will stay at a company longer. With enterprise information platforms, new-hires can submit their personal data via online forms, and review information about their new job or company before they enter the building. This decreases the time spent filling out forms and reviewing introductory information on their first day, and leaves more room for the hands on training and knowledge transfer they need to perform well in their new role.
Manufacturers that haven't started the digital transformation journey burden HR staff due to manual filing and searching for employee data rather than focusing on supporting and engaging new hires. Leveraging an enterprise information platform can automate repetitive steps in the onboarding process, assigning tasks to relevant departments across the organization and ensuring tasks are completed before start dates. Many of these systems also include checklist functionality, sending notifications to relevant staff when new actions are required or completed. In addition, the managing HR employee gains total visibility into the process to efficiently manage each step.
Poor Control
There is a spotlight on security in today's business environment. Information in the hands of the wrong people can lead to costly errors, especially when it comes to personal employee data. A cybersecurity report from the ACC Foundation found that the leading cause of data breaches is employee error, such as emails sent to the wrong recipient.
Storing important information in a centralized location grants complete control over associated content. An enterprise information platform also provides granular security settings, based on department or role. Whether it is sensitive employee files that only HR personnel should access, safety policies and procedures that only staff in certain positions need to know or the company-wide employee handbook, these platforms ensure the right people have access to specific documents and data. They also ensure compliance with internal and external regulations and standards by identifying missing, incomplete or out-of-date information, which in turn results in smoother audits.
By implementing a technology solution that provides greater visibility, efficiency and control over the onboarding process, manufacturers' HR departments become empowered to provide the best experience possible from the very first interaction with a new hire. Enterprise information platforms provide a holistic view of all critical information from a single platform, enabling a streamlined and digital onboarding experience for both HR managers and the next generation of employees.
Danielle Simer is a solution marketing manager at Hyland.