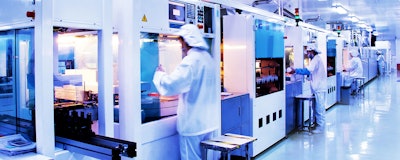 The manufacturing industry is in a transition stage as it prepares to take advantage of the data and automation that are available to make plants more efficient and productive worldwide. Many current manufacturing jobs are transforming or disappearing all together. But, many more new jobs are becoming available.
With the increased use of software and robots, new positions include titles like Industrial Data Scientist, IT Solution Architects, User Interface Designers and Robot Coordinator. The abilities to run these new tools and to capture, analyze and utilize data are skills that manufacturers need to master to achieve success in their careers going forward. But, there is a gap as workers learn these new technologies.
The "skills gap" has been a topic of conversation in the manufacturing industry for some time now. According to The Global Robotics Technology Market: Forecast, 2014 - 2020 published by Research and Markets, 70 percent of CEO's and manufacturing executives believe workers lack technology and computer skills. Seventy-eight percent believe the skills gap will impact their ability to implement new technologies, reducing their ability to grow.
Needed Digital Skills
Seasoned workers need training and education to learn the new technologies. They must be able and willing to adapt to the changing environment. That means letting go of old processes and embracing a new way of working. They've got overall factory experience, but need to understand how to apply it with these new digital skills.
Newer workers have an advantage in that they've grown up in a digital world. Technology is ingrained in their daily life. They've never had a time when they didn't have a computer…and many have never experienced life without the internet. Many of these skills are second nature to them.
How to Get Digital Training
But how do they get there? There are multiple ways for workers to get the training they need.
Company Training
Companies need to offer training on a larger scale than they currently do. It's in their best interest to make sure their workers have the skills they need. They can't realize the benefits of Industry 4.0 without the people to do the work. Some bigger companies bring in trainers, but not enough. Training doesn't have to be in-person. Tools like webinars or GoToMeeting make it possible to gather groups of people from around the globe together for training sessions.
Country-Funded Training
In some countries, like Spain, governments help with free or low cost training. Besides just helping their citizens, having a strong manufacturing work force helps to bring these jobs to their country.
Online Resources
There are a number of online resources available for training including:
Online classes from sites including Coursera.
Certification courses from software and equipment companies.
Manufacturing association and group resources.
YouTube videos.
Schools/Universities
Schools and universities with manufacturing degrees likely also offer course work on specific manufacturing disciplines.
Additional "Soft" Skills
With the "hard" technological skills needed, there is also a need for development of "soft" skills. As factories continue to connect globally, it allows for more idea-sharing and new insights. Best practices for both efficiency and productivity can be shared across the world. This requires better collaboration, communication and adaptability skills.
Included in that collaboration is the mixing of current and newer workers. While the current workers have experience, they need the digital skills. The newer workers have the digital skills, but lack the experience. By working together, these two groups can teach each other the skills they need to be well-rounded in both aspects.
Project teams now include many departments and offer insights into how they are all impacted by new processes and other changes. More employees can share viewpoints that they didn't have before. Many issues that used to come up after a change was implemented can now be uncovered beforehand. This allows for more successful implementations, fewer delays and better overall buy-in.
The Company's Role
For a change as large as the digital transformation, company leadership needs to be front and center to show the future direction of the company and the goals they will achieve. Explain the benefit to inspire and empower workers to get the training they need. Workers need to understand why they need to change. It takes more than just explaining that it's good for the company. They need to know how they will personally benefit.
Company leadership needs to show the workers that they are adopting the same changes and give frequent feedback and touch points to keep the staff from reverting to old ways. Employees need to know that this is the future of the industry, the company and for all. Keep them motivated by sharing the successes the come from the changes.
Ultimately, it's on the worker to buy in and embrace the change. Technology is changing faster than ever. Continued career success will depend on their ability and motivation to continually learn and build their skills as new advancements come.
Alberto Martinez is CEO of Lantek.