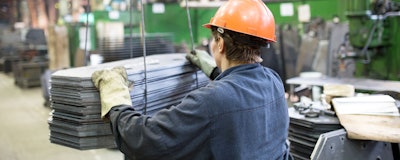 Today's manufacturing industry faces surging consumer demand, a forceful global market and cutthroat pricing competition. With these concerns piling up, it's difficult to stay focused on the most important factors that keep manufacturing organizations successful, including lean manufacturing, supply chain management, and industrial safety. These initiatives are especially challenging without a skilled workforce. In fact, the skills gap in manufacturing has become a significant problem that the industry cannot ignore.
There's a Skills Gap in Manufacturing
The demand for engineers is quickly outgrowing the supply, and the manufacturing industry is not immune to this deficiency. Industrial engineering—essential to uniting manufacturing and technology—is one of the fastest-growing fields in engineering. However, it also has one of the largest populations of older, nearly retired workers, with 25 percent of its labor force 55 years or older. From 2012 to 2014, industrial engineering had three times more unique monthly job postings than average monthly hires.
Vacancies also extend to the larger industry-wide manufacturing functions. Studies by the Manufacturing Institute and Deloitte estimate that U.S. manufacturing will have a shortage of 2 million workers over the next decade.
The incoming talent is far smaller than the talent leaving, and vital positions go unfilled. This shortage indicates a dire need for more effective and widespread skills training for current and future employees.
Skills Quickly Become Outdated
This existing skills gap is exacerbated by quickly perishable skills. A 2015 study from Bridge by Instructure surveyed more than 500 college-educated workers across the United States and found that 75 percent of them believe knowledge and skills in their field quickly become outdated. In addition, 90 percent of the respondents agreed that changes in their field required them to update knowledge and learn new professional skills.
Learning skills that become obsolete in a year or two is discouraging and may deter people from entering the manufacturing industry, or may convince them to leave after a few years of frustration.
College Doesn't Do the Trick
The skills gap problem doesn't stem from fewer students choosing to study industrial engineering or other manufacturing subjects in college. Even when they do choose a manufacturing-focused major, their universities don't teach them all they need to know to prepare them for their future careers or the specific skills needed in a particular company.
Whether manufacturing employees receive additional skills training in college or not, many manufacturing jobs don't require post-secondary education, which makes on-the-job training even more essential in the manufacturing field.
Implications for Manufacturing
Without a sufficient selection of skilled laborers, manufacturers could face inefficient production lines with offshore competitors snatching business, making hiring and retaining talent equally critical to company success. The best way to sharpen the skills of the existing workforce and increase employee engagement, while decreasing voluntary turnover, is through on-the-job education and training.
It has become mission-critical for businesses to continuously train their employees. Creating a training program can seem daunting, but there are a few critical steps to take in order to implement simple solutions that can make a big difference in an organization.
Here's how to implement it:
No. 1 - Make Training Mobile
Going mobile is most likely the best approach to reach your dispersed workforce that has different shifts and hours, whether at company headquarters or on the factory floor. You can make training accessible anywhere through mobile-optimized learning management platforms.
Mobile devices are ubiquitous today. In 2015, 68 percent of American adults owned a smartphone, with that number expected to increase in 2016. And these adults are looking to their smartphones for the continued education they aren't receiving at work. Bridge's study discovered that 80 percent of employees are turning to their mobile devices for continuing education—and are learning from sources on the internet.
Your organization should adapt to employees' methods of self-education by investing in web-based, mobile training.
No. 2 - Create Easily Consumed Content
Training that your employees will actually consume and remember should be in streamlined, bite-sized snippets accessible when needed for a particular task—think Just-in-Time learning.
We can blame the 10-internet-tab minimum we always have on our computers for diminishing our willingness to pay attention to any lengthy content. The average attention span has dropped from 12 seconds in 2000 to eight seconds in 2015, according to a Microsoft survey. Because our attention spans have now regressed to shorter than a goldfish's, the content you deliver to your employees needs to be concise and engaging.
No. 3 - Focus on Safety and Skills that Give Employees an Edge
As important as the style of your training is the substance, and that should be centered on safety. At-work manufacturing fatalities have increased recently, highlighting the need to keep your employees aware, cautious and following safety guidelines.
Companies also should teach skills unique to their personnel. One way to do this is to leverage the in-house skills of the current leadership. Teach skills from managers, company executives and other leaders who have the expertise that employees can't find anywhere else. These unique, specialized perspectives will give employees the skills they need to have a competitive edge.
Payback for Training
Fostering a culture of learning with strong on-the-job education and training will help to No. 1 ensure proper use of equipment in warehouses and factories; No. 2 increase company productivity by accelerating the ability to gain and share knowledge and skills; and No. 3 retain top talent.
Ignoring investing in skills-building may drive top performers to move on and leave you with underperformers who hurt company goals. Nearly 53 percent of employees surveyed in the Bridge study indicated they would be likely or very likely to leave their job due to insufficient or ineffective opportunities for growth and learning.
Companies can receive a solid ROI from sufficiently upskilling their employees. And with effective training, the manufacturing industry could remedy its increasing skills gap and receive a major boost in productivity.
Jeff Weber is the SVP of People and Places at Bridge by Instructure.