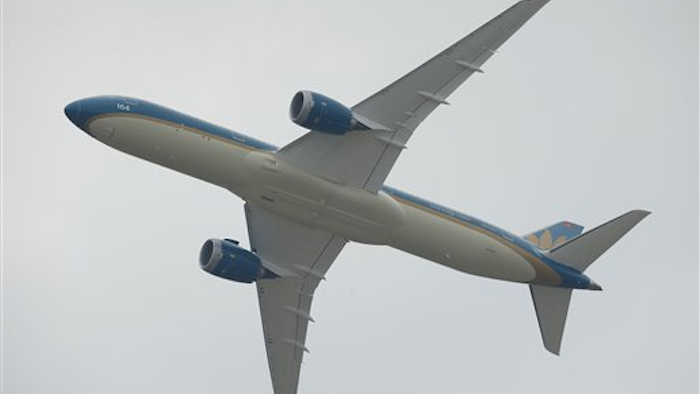 Boeing landed the biggest order so far of the Paris Air Show with a deal Tuesday for 100 of its 737s — the single-aisle jets that Boeing's CEO calls "the heart of the market" in the years to come.
Fighter jets growled and superjumbos soared above Le Bourget airfield outside Paris, the U.S. Air Force secretary met CEOs, and Mideast and Asian airlines signed multibillion-dollar deals as thousands gathered for the latest edition of the world's oldest air show.
Boeing and European rival Airbus clocked scores of sales, with particularly intense competition between the 737MAX series of planes and Airbus' 320 family of jets.
Dutch-based leasing company AerCap ordered 100 737MAX-8 planes after long negotiations, Boeing said Tuesday. The deal is worth up to $10.7 billion, though customers routinely negotiate discounts off list prices.
In other Boeing announcements Tuesday:
-Ireland-based leasing company SMBC Aviation Capital ordered 10 of the 737MAX-8 jets, worth up to $1 billion.
-Indonesian domestic airline Sriwijaya Air ordered two 737-900 jets, for up to $198 million.
-Chinese low-cost carrier Rulli Airlines made a commitment to buy 30 planes from the 737 MAX range.
-Chinese leasing company Minsheng Financial signed a preliminary 737 deal for 30 planes.
Airbus showcased several deals Monday, and on Tuesday announced that Japanese low-cost carrier Peach Aviation signed a firm order for three A320 jets.
Russian economic troubles clouded the stream of contracts, as Aeroflot announced it was canceling an order for Boeing 787 jets.
Boeing CEO Ray Conner acknowledged Russia is "a tough market right now" and said details of the cancellation are still being negotiated, but insisted that his company would find other customers for the plane.
The conflict in Ukraine and resulting sanctions have hit the Russian economy, and limited Russia's presence at this year's Paris Air Show.
While Airbus executives predict high demand for jumbo jets like the A380 to serve growing megacities, Conner had an opposite view, calling that "a limited market."
"We believe the world continues to fragment," he said. "Nobody wants to hub up, gather and go off from there."
Boeing is forecasting demand for 38,050 airplanes over the next 20 years, and says 26,730 of those will be single-aisle jets. Airbus projects that 32,600 new planes worth a total of $4.9 trillion will be needed by 2034.
Conner said the lower oil price this year isn't dampening demand for more fuel-efficient models like the 737MAX series.
Lower fuel costs save airlines money, and "when airlines make money they tend to buy aircraft, which is a great thing."
The Paris show alternates years with Britain's Farnborough Air Show as Europe's premier industry event. Top military officials join CEOs and some 300,000 visitors at the event, which runs through June 21.