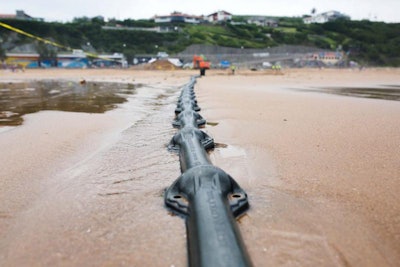 A 4,000-mile long cable now stretches across the ocean from Virginia to Spain, bringing transatlantic data at 160 terabits per second. Partner builders Facebook, Microsoft, and Spanish telecommunications company Telxius hope that the pipeline will bolster communication across the pond in the case of natural disasters hitting telecommunication hubs in New York.
Named Marea after the Spanish word for "tide," the project was constructed over a period of less than two years. It is now the highest-capacity subsea cable across the Atlantic.
The bundle contains eight pairs of fiber optic cables sheathed in copper, a hard-plastic protective layer, and waterproof coating.
For most of its length the Marea lays exposed on the ocean floor, although some sections near shore are buried to prevent complications from ship traffic.
Operations are expected to begin in early 2018.