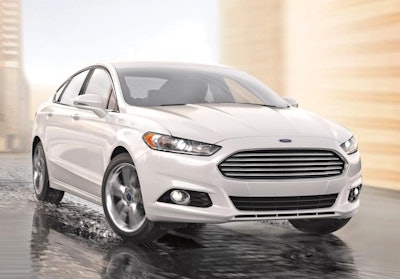 Last week, Ford announced that it would join Google in testing self-driving cars on California roads.

Next month, it appears that the two companies will join forces to build an autonomous vehicle.

Yahoo Autos reports that the Detroit automaker and Silicon Valley giant will announce a new joint venture at the Consumer Electronics Show in Las Vegas.

The partnership would reportedly give Ford access to Google's autonomous driving software while allowing Google to forego building its own auto manufacturing operation.

It would also be legally separated from Ford in order to shield the automaker from liability concerns surrounding autonomous technology.
Google previously said that it would accept liability for accidents involving its self-driving vehicles. The company's test cars logged more than 1 million miles in California and Texas, and although their accident rates are higher, the self-driving cars were not at fault.

Numerous other carmakers are also working on autonomous vehicles, but only Volvo and Mercedes-Benz made similar pledges regarding liability. Google believes that autonomous driving could eventually eliminate thousands of fatal vehicle accidents each year.

The joint partnership with Ford would also reportedly allow Google to work with additional automakers to deploy its autonomous software.

The tech giant, meanwhile, plans to establish a separate self-driving unit under its Alphabet parent next year in hopes of launching a ridesharing service.