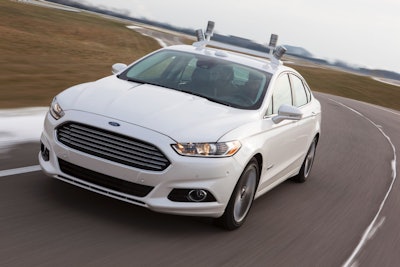 Ford will begin testing self-driving cars on California roads next year.

The company last week announced that it secured a permit from the state Department of Motor Vehicles to begin trials of autonomous Fusion Hybrid sedans.

Ford would join Google, whose self-driving cars have logged more than 1 million test miles, under the California Autonomous Vehicle Tester Program.

Ford's autonomous driving program got a relatively late start, but it grew rapidly in 2015.

In January, the company established a research center in Palo Alto, California, that since grew from 15 employees to more than 100.

Longtime engineer Randy Visintainer was appointed to oversee its autonomous program this summer, and the company began testing autonomous cars on a test track in its native Michigan last month.
"We're attracting top talent from around the world to join our team in Silicon Valley, including employees from local technology companies and universities who want to make people's lives better by changing the way the world moves," said CEO Mark Fields.

Fields previously said that he expects other companies to debut autonomous cars by 2020.

The California DMV, meanwhile, issued draft regulations for self-driving cars last week.

The proposal could potentially authorize drivers to lease the vehicles by 2017, but Google suggested that they could substantially delay driverless technology.