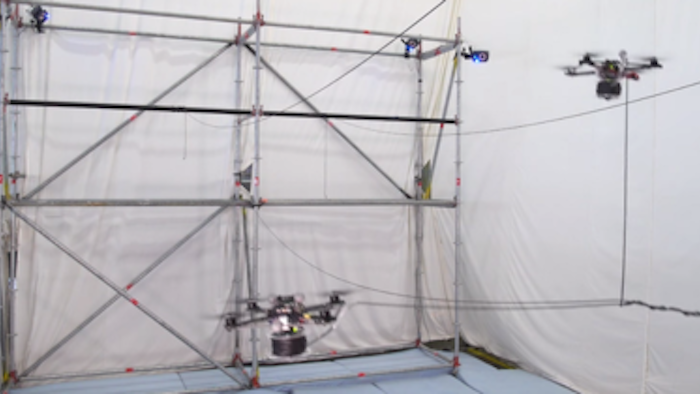 There have been instances where 3D printing robots have created a bridge on their own. Now you can add drones to the list of technology used to create a bridge.
Researchers in Switzerland programmed three drones to build a rope bridge spanning 7.4m (over 24 feet) between two support towers, according to a report by International Business Times. More than 393 feet of rope was used to build the bridge, which can support the weight of adults climbing it. The support is quite impressive considering that the rope is just 4mm in diameter and weighs just 7 grams per meter.
A system placed on each of the UAVs used a spool and tube to put the rope in place. Another system helped the drones to determine the external force and torque used, which helped to determine the UAV's performance.
Though no human was physically involved in the build, the drones were guided using an algorithm which incorporates a motion capture system and a bespoke wireless network. This all means that the drones moved using a preset route determined by the distance between the two towers of scaffolding.
According to the researchers, the exercise will be used to help determine how to produce rope bridges for real-world use.
"Except for the required anchor points at both ends of the structure, the bridge consists exclusively of tensile elements and its connections and links are entirely realized by flying machines," the researchers said in their report.