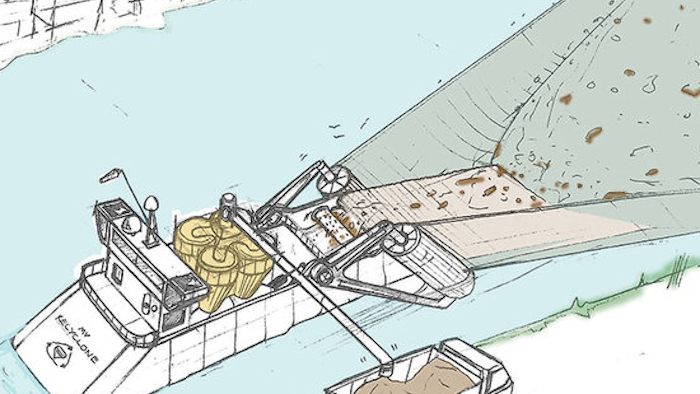 James Dyson, who is perhaps best-known for his series of expensive and intricately-designed vacuum cleaners, is now hoping to bring some of that same "cyclone" technology to a vehicle that would trawl rivers for garbage.
The M.V. Recyclone barge, which is still in the concept phase, would use large nets to trap plastic and other garbage floating on a river's surface. Hydraulic winches would wind these nets in and out. A suction system, borrowing that tech from the household vacuum, would then pull in the waste and shred it. Different grades of plastic would then be separated by a cyclone system, which would make the end result easier to process.
In an email with Fast Company, Dyson said: "By skimming a highly concentrated flow of larger sized plastics in polluted rivers, the M.V. Recyclone would effectively mine a major source of the pollution before it reached the sea."
Dyson's concept is that if governments and municipalities do better work in cleaning their rivers, they will prevent a majority of the trash escaping out into the greater ocean, where it tends to form into vast patches of garbage, like the Great Pacific garbage patch. The Recyclone wouldn't work on the oceans itself — at least based on its current design — but that may not matter if trash can be captured before ever hitting ocean waves.
Dyson recognizes that his concept needs a great deal of work, and his history proves he's willing to slog through all the technical details — he's famous for iterating through 5,127 prototypes of his first vacuum cleaner — so it will be exciting to see what he comes up with in the coming years. Whatever that end result might be, you can bet it will both work and look great — and cost accordingly.
Source: http://www.fastcoexist.com/3028391/james-dyson-is-designing-a-giant-vacuum-on-a-boat-to-clean-ocean-trash