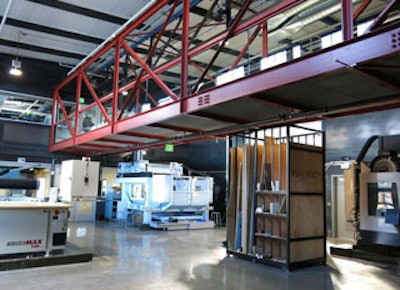 San Francisco, Calif. (Manufacturing.net) — The company behind some of the most used and highly-regarded 3D design software has opened up a new 27,000 square-foot facility on San Francisco's Pier 9. The Autodesk Workshop aims to help more people imagine, design and create new software, tools and advanced workflows across industries. The company hopes to bring in more "makers" to develop solutions to "create a better world," as its vision states.
The new facility was opened by cutting a steel ribbon that had been manufactured by one of the new waterjet machining tools. The ceremony was attended by Autodesk President and CEO, Carl Bass and San Francisco Mayor, Ed Chiu, among many others.
The workshop, located within San Francisco's famous port, is just a short walk from the company's current San Francisco facilities. It will allow more people to have hands-on experience designing and constructed projects in a variety of materials. Only a select number of Autodesk employees and partners, who have completed required training and safety courses, will be allowed to use the facility right away.
But for those who complete the requirements, there will be a bevy of high-tech design and production tools available for experimentation, including CNC machines and additive manufacturing equipment. Users can use the DMS 5-Axis Enclosed Router, an Omax Waterjet machining center and much more.
The new location is also home for two groups within Autodesk conducting research on different advanced design and manufacturing challenges. The Consumer Group is aiming to make a portfolio of creative tools that are accessible to kids, hobbyists, artists and designers. They will be joined by the Autodesk Instructables team as well. At the same time, the Bio/Nano/Programmable Matter Group within Autodesk Research will be using a new onsite lab to develop ways to use biology as a design medium.
Learn more about the opening at Autodesk.