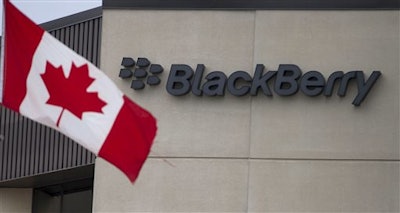 TORONTO (CP) -- Blackberry is planning on lobbying Ottawa over foreign takeover rules, amid unconfirmed reports that a takeover by major Canadian pension plans is unlikely.
The troubled smartphone maker (TSX:BB) registered with the federal lobbyist registry on Sept. 6 to discuss the Investment Canada Act with lawmakers, records show.
The Investment Canada Act governs large foreign investments in Canada and makes it mandatory for Ottawa to review all direct investments over $344 million.
Shares of Blackberry surged nearly six per cent on Monday amid unconfirmed reports that Fairfax Financial Holdings (TSX:FFH) chairman Prem Watsa was closing in on a rescue deal for the troubled smartphone maker.
The Sunday Times newspaper reported that Watsa has assembled billions of dollars in backing from the Canada Pension Plan Investment Board and other Canadian pension funds to buy the Waterloo, Ont.,-based company.
But the stock slid back down nearly six per cent on Tuesday after the Globe and Mail reported that big pension funds have been reluctant to join Fairfax in a buyout consortium.
Shares of BlackBerry continued their descent on the Toronto Stock Exchange on Wednesday. BlackBerry was down 60 cents, more than five per cent, to $10.73 in afternoon trading.
BlackBerry declined to comment on its lobbying plans.