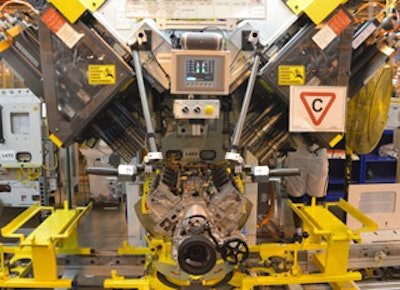 Buffalo, N.Y. (Manufacturing.net) — At General Motors' Tonawanda Engine Plant in Buffalo, N.Y., a $400 million investment in advanced manufacturing techniques will allow the company to produce 1,000 Gen 5 Small Block engines daily — a 4.3L V-6, 5.3L V-8 and two variants of a 6.2L V-8. The new engines will power nine GM models by 2015, starting with the 2014 Chevrolet Silverado and GMC Sierra pickups, plus the 2014 Chevrolet Corvette Stingray.
Production began at the Tonawanda plant began in 1938, with an emphasis on high-performance engines for vintage Chevrolet muscle cars and Corvettes. It is also the birthplace of the Small Block engine, which went into production in 1955. This year, the plant will build its 71 millionth engine, which currently includes the Ecotec 2.0L Turbo and 2.5L engines that power the 2013 Chevrolet Malibu and the 2013 Cadillac ATS.
Additions to the plant include new coordinate measuring machines that check machining with greater speed and efficiency. A Zeiss camera can examine more than 11,000 data points within 2.5 microns, while a Hummel surface finish machine checks finish textures at less than a micron. A new track-and-trace system incorporates that data, plus assembly data, for better quality.
An automated cylinder head assembly system can assemble 48 parts in 40 seconds, while a fuel system connection inspection system uses helium to detect leaks of less than one part per billion. Three  synchronistic robots perform inspections and check simultaneously for any engine, including thread checks, plus assemblies and more.
Steve Finch, Tonawanda plant manager, said in a statement: "The Gen 5 Small Block is a cornerstone of GM's powertrain strategy and its production at Tonawanda affirms the commitment to one of the highest-skilled workforces in the industry. We have invested 40,000 hours and $1.8 million in training the workforce to build these engines with uncompromising quality, and we've added some of the most flexible equipment ever used in the industry to make sure we can meet market demand."
Bob Coleman, shop chairman of UAW Local 774, added: "We have hired more than 1,000 people in the last year. They are trained by a joint team and learn the Tonawanda culture during an intensive two-week orientation. I believe we have the finest engine builders in GM. Receiving almost $1 billion of new investment since 2010 proves that GM has the confidence in this workforce, as do I."