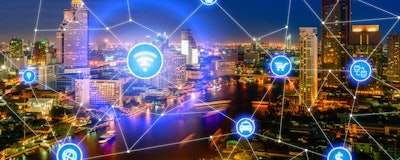 The Internet of Things (IoT) is transforming the manufacturing sector. By harnessing big data and making previously unavailable information accessible with the touch of a button, the technology is allowing manufacturers to take greater control over the process, cut costs and increase efficiencies. The best IoT platforms are scalable, robust and can provide valuable insight into virtually any point in the manufacturing process. The far-reaching benefits of IoT are matched by the rate of investment in the technology: The manufacturing sector is expected to spend more than any other industry — $189 billion in 2018 alone.
Although each IoT platform operates a little differently, typically small sensors — no larger than a credit card — are applied to motors and machinery. The sensors collect data, such as changing temperatures, unusual vibrations, moisture level or any number of other metrics, and send the data via the cloud to a desktop or mobile device. Many platforms are customizable, which means a manufacturer can choose exactly what data to receive and in exactly what manner to receive it.
A Universe of Possibilities
The concept of IoT may be simple, but the universe of things that can be connected to an IoT platform is endless. It's important to understand that the point of IoT is not merely to make "dumb" objects "smart," but rather to collect valuable data that can lead to a greater understanding of the manufacturing process, leading to more accurate predictions and informed actions. Because IoT technology can measure everything from temperature and vibrations to sound and moisture level, a variety of manufacturing use cases exist.
Predictive maintenance — the ability to predict machine failures before they occur — is one powerful motivation behind many large IoT investments. According to recent research by IoT Analytics, the market for predictive maintenance applications will expand from $2.2 billion in 2017 to $10.9 billion by 2020. Increasingly sophisticated predictive maintenance IoT technology is delivering big results; a recent report by IoT Analytics found that IoT users report as much as 30 percent efficiency gains.
A U.S. automobile company, for instance, recently implemented an IoT platform offered by Atomation in order to measure the efficiency of its painting process for car parts and correct wherever the system was lagging or causing errors. After paint is applied to each part, sensors measure movement to determine whether the paint is getting marred by excessive motion. The solution is simple, but the benefits are big: The company can easily and quickly identify and correct problems before they cause cascading and costly mistakes.
This is just one example of what IoT-enabled sensors can measure to minimize plant shut-downs and increase productivity and profits. Diagnostic data can be gleaned from any part of the manufacturing process, enabling company decision makers to analyze and predict the health and performance of the entire manufacturing ecosystem, leading to better designed supply chains, more efficient processes, and less waste of energy, manpower and materials.
High Tech, Low Bar to Entry
With so many possible applications for IoT, it can be difficult knowing where to start. First, it's OK to start small — many manufacturers choose to integrate one use case at a time, rather than overhauling the entire manufacturing process.
Additionally, the insights powered by IoT technology are easily accessible to manufacturers — no team of tech experts or system building is necessary. Many IoT platforms are scalable and offer end-to-end integration solutions that encompass on-premise, legacy and cloud systems and platforms. Many also operate under a Platform as a Service model, which makes integration cost-effective and quickly puts customized data into the hands of the manufacturer. In Atomation's case, the manufacturer is provided with three deliverables within a matter of weeks of deciding to integrate with the system: the sensors with the communication code necessary for capturing the proper metrics; the mobile SDK over a mobile app that communicates and collects the sensors' data; and finally; the cloud analytics and dashboard that reports the insights.
The following three steps can help further guide manufacturers in determining the best way to approach integrating the technology into their businesses.
Determine if your system is compatible with IoT technology. The good news is that IoT technology can be applied to almost any system. Capital equipment can last years or even decades, which means it can be expensive or impractical to purchase new equipment with smart technology built in. Integrating with an IoT platform using small sensors fills the gap and enables manufacturers to get the full life value out of equipment while also bringing it up-to-date with today's technology.
Scrutinize your current process and identify problem spots to discover what data needs capturing. Is there one component that regularly fails and causes downtime or costly repairs? What point in the process would cause an operational catastrophe if something went wrong? Are there any points requiring manual labor or timely supervision that could be automated? Is there a point in the process that causes a greater safety hazard for employees? Is any part of the process leaching energy? The answers to these questions can provide insight on the most valuable use case.
Make a wish list of IoT platform capabilities. IoT platforms vary in terms of communication protocols, customizability, flexibility and pricing structure. Look for nimble IoT firms able to keep pace with the evolving landscape. For instance, communication protocols are changing rapidly, and not every IoT firm is able to keep up. In addition, some IoT companies have exclusive agreements with a chip or sensor company. This isn't necessarily a bad sign, but it may impose some restrictions on what the IoT platform is able to do. Another differentiator is whether the IoT company uses edge computing — this allows data to be captured on the object itself versus only sending everything to the cloud, ensuring data is never lost.
IoT technology opens up a whole new world to manufacturers. With endless opportunities to capture insights on efficiencies, machine performance, energy usage and so much more, one thing is sure: Manufacturers who don't take the leap and use IoT to access big data insights will be left behind.
Guy Weitzman is the CEO and co-founder of Atomation.