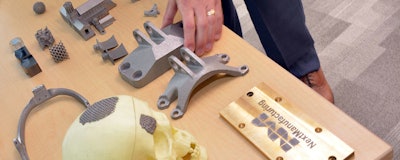 3D printing is no longer a technology of the future — it's here now and it's here to stay. The layer-by-layer manufacturing technique (also known as additive manufacturing) has grown in popularity over the past six years as the maker movement has swept the world. Many people have become familiar with desktop polymer printers, but companies have their sights set on more industrial 3D printing processes that allow them to design and automatically print metal parts. These processes can be used for both prototyping and final part fabrication.
3D printing took off early in fields like aerospace and medical devices because of the industries' eagerness to innovate their product development procedures. But over the past year and a half, all industries that work with metal have begun to realize the promises of 3D printing — and it's important that they do because time is of the essence. Those who understand and prepare for the coming changes in this fast-paced field will outcompete those who do not.
Recognizing that the clock is ticking, what can be done?
Promote highly collaborative research between industry, academia, non-profit, and national labs: To take advantage of the promise of 3D printing, we need to create a thriving metals additive manufacturing ecosystem in the U.S. This means connecting all the key players in the field. America Makes, the national accelerator for additive manufacturing and 3D printing, has made substantial progress on technology transfer projects in this area. However, there is opportunity for fundamental research projects to be carried out by regional groups. To this end, the NextManufacturing Center (where I serve as director) recently launched a consortium to bring together these key players with the common goal of advancing and adopting 3D printing technology.
Stay up to speed on the fast-moving field: 3D printing technology has a deeper history than some realize, with additive technology originating over twenty years ago. It's important to get up to speed and stay up to speed on the changes in the field. This is particularly important for governmental organizations involved in standards and certifications.
Integrate metal 3D printing concepts into university curriculum: The engineers of tomorrow are being educated today, so they need to experience hands-on 3D printing lessons. At Carnegie Mellon University we are focused on giving our undergraduate engineers experience with 3D printing and offer courses to expose students to three metal 3D printing processes: laser powder bed, electron beam and binder jetting processes.
Increase workforce training: The future of 3D printing will require a workforce trained in 3D printing at all levels. In the next five years, 3D printing will allow manufacturers to print specialized, high performance parts that have never before been possible. This future will require a creative, knowledgeable workforce. We need to focus on building this talent in the U.S. in order to fill the new expertise that will be needed.
Relieve the shortage of 3D printing machines: Currently, direct metal 3D printing machines are located in pockets around the United States because they are mainly found at research institutions. It is important to relieve this bottleneck and increase the amount of direct metal machines located at national labs, non-profits and consortiums around the country.
Jack Beuth is a professor of mechanical engineering at Carnegie Mellon University and the Director of the NextManufacturing Center.