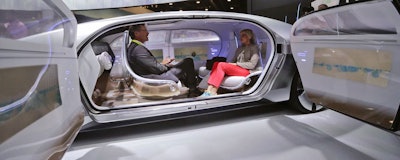 We might not yet have got to the stage of flying cars as predicted in Back to the Future II, but technology in our vehicles is still advancing at a rapid pace. Here are some of the trends we could expect to see in 2016 and beyond:
Self-drive cars: Google hit the headlines in 2015 for the testing of its self-drive cars, which work by using remote sensing technology. A laser range finder mounted on top of the vehicle allows it to generate a detailed 3D map of its environment to enable it to navigate itself. Unfortunately, news reports told us that Google drivers had to intervene to stop its self-driving cars from crashing on California roads 13 times between September 2014 and November 2015 — so don't expect to see these cars on our public highways just yet. The technology will take this a step further to reality.
Smart dashboards: Dashboards that act like smart phones to read out your text messages, answer calls, find maps and play music are becoming a popular addition for car manufacturers. Apple's CarPlay and Google's Android Auto are two of the big players in this new technology. Road safety experts have their reservations about the use of this technology and warn it could become a distraction for drivers. Others argue the new screens, voice controls and large touch screens will make things safer and keep drivers from fumbling with 'more dangerous' mobile phones. Learner drivers who are most used to this sort of technology will probably be least phased by it and should assimilate it while studying the laws of the road for their theory test.
Autonomous features: While we haven't got to the stage of being able to own fully self-driving cars, more and more clever features are now being introduced into our vehicles. These include things such as active parking assist (as per the system in Mercedes S-Class) and advanced cruise control that almost allows the car to drive itself. BMW's 7 Series can actually allow the car to park itself while the owner is out of the car. Then there's Tesla's Autopilot system which aims to be accelerate, brake and steer for the driver using sensors and cameras to guide the car.
Gesture control: No need to fiddle about reaching for the volume control or tapping the screen on your Sat-Nav — the technology of gesture control could mean you just wave your hand in the air to turn on your radio or control your Bluetooth systems. The BMW 7-series already offers this with a recognition area built in above the central control to pick up your body motions. PSA Peugeot-Citroen has also been working on developing this technology.
Black box car tracking: This has already been around for a while but the AA has recently announced it is planning to "jump back into" black box car tracking to be able to pre-empt and diagnose breakdowns more quickly. Previously shelved because of the high costs involved in using the black box technology, it has been trialling other in-car devices and software to harness more data from drivers. The company now plans to use connected car technology to beam technical data from vehicles to passengers and roadside assistance clubs through a small device connected to the internet. It's also rumoured that all cars may need to have black boxes installed over the next 10 years or risk higher insurance premiums.