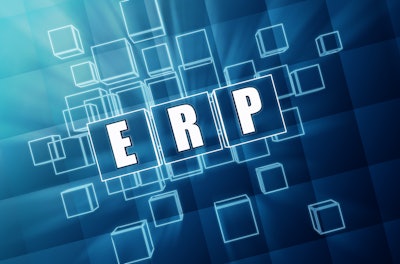 Small manufactures in the U.S. struggling to keep operations domestic have a secret weapon—ERP technology.
Dave Lechleitner, the Principal of Product Marketing at Exact Online, offered insight on increased efficiency, safety, off-shoring and the future of smaller scale manufacturers in the U.S.
Bridget Bergin (BB): In what key ways does ERP manufacturing technology increase efficiency on the shop floor?
Dave Lechleitner (DL): In a shop without ERP on the shop floor, the shop employees receives the drawing of the part that has to be manufactured and uses their knowledge and intuition on how to best manufacture it.
Any new learnings are then written down on the drawing, or worse, not documented at all. Then, at the end of the shift, they sit down and try to remember all the jobs they worked on and try to document how much time was spent.
From there, the shop foreman might update a manual spreadsheet to try to visualize the shop capacity and ways to deal with bottlenecks or overloaded work centers.
ERP systems often totally eliminate most of this manual entry through real-time data collection. Then, standard shop travelers with standardized work instructions all but eliminate the guesswork of how to manufacture the part.
The most important improvement is the increase in efficiency through more up-to-date and robust planning and scheduling capabilities. This real-time insight then further improves efficiency in other parts of the company as well, such as sales and customer service.
For manufacturers that have implemented ERP solutions, many report anywhere from a 2 to 5 percent increase in profit margins, a 10 to 30 percent increase in on-time performance and a 40 to 60 percent reduction in inventories. Shops will experience an improvement in lead times and customer satisfaction as well.
I predict we will see even more efficiency as mobile technologies linked with cloud ERP solutions allow access to data anytime, anywhere, on any device.
BB: What are some challenges to implementation of an ERP system, specifically for a small manufacturing business?
DL: Traditionally, ERP systems weren't designed for the small shop. Legacy on premise solutions were often heavy in terms of IT infrastructure required, training and manpower needed to understand and manage the system, not to mention the implementation time required to go live.
However, the advent of the cloud and much skinnier applications require no on premise IT infrastructure, reduced training and a much smaller implementation timeline have now become much more widely available.
In the past, you saw ERP systems really designed for mid-market and larger enterprises scaled back to try to fit the small end of the market. This caused a lot of issues by the nature of how the system was originally designed, and it put a lot of pressure on small companies to try to get all functionality still present in that solution up and running.
This is why companies like Exact have a very interesting proposition. Here is a solution that very specifically was designed from the ground up to be a fit-for-purpose solution for that small manufacturer. By understanding the reality of the day-to-day operation and how people wear many different hats, a solution can be created that eliminates all of the overhead that you normally see in other ERP solutions.
BB: What would you say to a manufacturer thinking about implementing an ERP system, but who is concerned about safety?
DL: Data security is always important no matter whether you choose an on premise or cloud solution. You cannot assume that your data is more secure just because it is housed within the four walls of your company. In fact, in many cases, your data is at more risk because you cannot hire the team and caliber of people like a cloud data warehouse company.
If you choose an on premise solution, you are solely responsible for keeping up-to-date on the latest malware and viruses and ensuring that no one in your company is downloading any file that could contain that malware.
You also have to worry about other events such as fires, earthquakes or other natural disasters that could wipe out your infrastructure; so you now become responsible for data backup, redundancy and disaster recovery.
When a small company moves to the cloud, all of these issues become the vendor's responsibility. This is why most cloud ERP vendors don't host the data themselves, but rather contract with a reputable, certified data warehouse that passed regular audits that certify their security, data recovery and redundancy procedures and can ensure greater than 99.99 percent up time of their application.
BB: How is technology helping to keep manufacturing facilities from off-shoring production?
DL: Very simply, any technology that can reduce cost and increase efficiency will further prevent off-shoring of production. This is why the cloud has become a real differentiator. In particular, cloud ERP solutions are gaining traction in the U.S. Cloud eliminates the vast majority of IT infrastructure that is required to reduce costs; in addition, the monthly subscription model moves the initial upfront cost to a much more manageable regular, monthly fee.
Anything that reduces the need to touch data multiple times will enable companies to compete more competitively against off shore players. So, you will see more integration of machine tool systems with ERP systems in the future.
BB: What are some new advances in manufacturing technology that you have seen, or that you anticipate in the near future?
DL: Manufacturing technology will be more and more affected by what is happening in the commercial and social areas of our life. The Internet of Things and the billions of electronic devices and gadgets will lead to revolutionary application of those devices in our work and personal lives.
Specifically, in manufacturing, I think you will see more wearable technology that automatically integrates with the machines or ERP solutions. You will continue to see a blurring of the lines between business and social and integration with information available and integrated within ERP solutions.
Candidly, I think the speed of technological innovations is increasingly so rapidly it becomes quite hard to predict anymore. Manufactures have to be ready and able to quickly adopt those technologies while being very agile. We must be ready for anything and everything in the future.