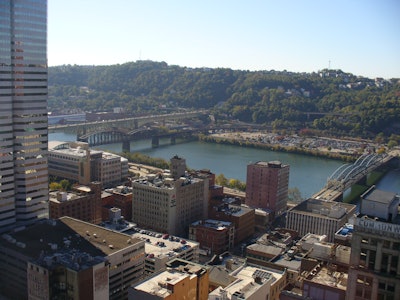 This article originally appeared in the January/February edition of IMPO Magazine. To view the digital version, click here.
Pittsburgh was once known as one of the biggest names in the steel industry. The region's manufacturing sector was booming — that is, until the infamous collapse of the industry in the 1980s.
Bill Flanagan, the chief corporate relations officer for Pittsburgh's Allegheny Conference on Community Development, says Pittsburgh hadn't invested in anything longterm back then because of how well the industry had been doing at the time. However, the region is now looking at various ways to reinvent itself by investing in the future of manufacturing.
"I don't think the issue so much is bringing back manufacturing, because manufacturing is changing so much," says Flanagan. He adds that the region has fewer than 100,000 working in the "traditional" industry.
While Flanagan says the region won't see job growth from rebuilding manufacturing in the traditional sense, there is promise and opportunity in new and innovative fields as the industry changes. Flanagan says there is a large demand for skills in green technologies and the construction of green buildings, such as the Tower at PNC Plaza.
The Tower at PNC Plaza is one of many examples of green technology and construction the region is actively pursuing. Opened Oct. 1, 2015, the sleek 33-story building is the world's greenest office tower and is LEED (Leadership in Energy & Environmental Design) certified. The $400 million project includes a slew of green practices, including LED and motion-sensored lighting, recycling and composting, lowflow fixtures as well as an on-site water recycling plant — even 140 employees volunteer as "green."
"Part of being sustainable for us is picking material with low upkeep and that can stand the test of time," says Gary Saulson, director of corporate real estate for the PNC Financial Services Group.
Chatham University's Eden Hall Campus is another primary example of the pursuit of green technology. First breaking ground in 2012 and just about to complete the first phase of construction, Eden Hall Campus is the first campus in the world being built from the ground up for sustainability.
According to Bill Campbell, vice president of marketing and communications for Chatham University, all heating and cooling on campus is geothermal, all electricity and energy is solar and the dining hall will eventually run on micro-turbines. The 388-acre campus, once completed, will be a net positive energy campus — that is, producing more energy than it consumes. This campus also creates a place for students to learn about the practice and technology of sustainability. The green movement alone is already presenting the region with opportunity and a demand for skills and education, something that older skilled people in the manufacturing industry don't have, which is what Flanagan calls "the other side of the skills gap."
In addition to sustainability practice and construction, other major areas of growth and focus are advanced technology, materials manufacturing and additive manufacturing, which Flanagan says will revolutionize the industry.
"You cannot afford to be complacent, you cannot afford to not pay attention to the competition," says Flanagan. The reason he believes Pittsburgh will be a good example of welcoming these new technologies that many others are skeptical of is because they are able to embrace change.
"We know what it's like to be forced to adapt," he says, remarking on the ongoing recovery from the industry collapse decades ago.
Linda Topoleski, vice president of workforce operations for the Allegheny Conference, says Pittsburgh's future is bright because the region is creating strategies, as well as investing in various companies and the forward outlook of the industry.
"It's about resiliency and being flexible and adapting to change," says Topoleski.
A tour around the region, hosted by the Pittsburgh Regional Alliance, provided a glimpse into some of the innovation currently taking place, including technology, robotics, going green and more. Take a look at some of the companies and organizations taking part in reestablishing the area:
National Robotics Engineering Center (NREC)
Carnegie Mellon University's National Robotics Engineering Center works with the government as well as industry clients to develop new cutting-edge robotics and prototypes for commercial use. John Deere, Caterpillar and the U.S. Department of Defense's DARPA are just a few big names among dozens of those NREC has worked with.
One of the major projects NREC is currently working on is autonomy, ranging from vehicles to robots to industrial machinery. The primary focus is to develop robots that can enhance the way humans and robots work together and increase productivity.
Quite frequently in conversations on robotics, there is a fear or concern about human injury as a result of the machines. NREC makes sure to include that as a number one priority while developing prototypes.
"Everything we do has a safety component," says Jeff Legault, director of strategic business development for NREC.
For example, robots can be very beneficial in an industrial setting — particularly with lifting heavy objects. However, this can also be highly dangerous if humans are nearby. NREC has designed a sensor system so the machines can tell when a person is close and momentarily halt its work.
Another major recent NREC project is CHIMP, which took third place in DARPA's Robotics Challenge, earning a $500,000 prize. CHIMP (CMU Highly Intelligent Mobile Platform) was created in response to the Fukushima nuclear disaster in 2011 and is almost entirely teleoperated — that is, controlled remotely by a human being. This eliminates the danger of a human entering a hazardous area after either a man-made or natural disaster has taken place.
"We transfer technology to the world," says Legault.
U.S. Steel's Research and Technology Center
Despite the industry struggle following the collapse in the '80s, steel still has a large presence in Pittsburgh. Located in Munhall, PA, just outside Pittsburgh, U.S. Steel's Research and Technology Center works on developing new types of steel to increase both safety and durability of the material.
This facility, like the Tower at PNC Plaza, is LEED certified and focuses on applying new technology to the industry that originally "put Pittsburgh on the map." Kevin Zeik, general manager of research, says it's important to recognize what customers need and, in creating new kinds of steel, they are "aiming for innovation."
Scientists and steel industry experts come together at this facility to examine the behavior of different types of steel and how to make products both strong and safe at the same time. For example, in a car, there are multiple types of steel used — the front should have a lightweight steel that bends out in impact, but a core that won't buckle in a collision in order to keep the occupants safe. Making cars more lightweight — while maintaining strength at the same time — increases fuel efficiency without risking safety.
U.S. Steel was founded in 1901 and has been making steel for 114 years. The company has a steelmaking capability of 24.4 million net tons per year and employs about 35,000 people across the world.
Aethon
Another company with a focus on autonomous robots is Aethon, a "not massively profitable" company, but one with a global presence. Aethon is most well-known for its TUG robot, operating approximately 400 in the world so far. According to Tony Melanson, vice president of marketing and product management at Aethon, the company just about breaks even — but it's still a young and growing market for autonomous robots.
The TUG is a fully autonomous robot that can deliver materials and supplies across a building. It can automatically pick up a racks or bins of materials, navigate to a destination, warn humans it is nearby and even call for an elevator. The purpose of the TUG is to eliminate labor costs and increase efficiency of material transportation.
"We're probably half the cost of a human pushing it around," says Aldo Zini, president and CEO of Aethon. He added that the primary goal of the company is to "make it affordable, make it safe, make it reliable."
To eliminate as much human involvement as possible in order to increase efficiency, the TUGs also have a 24/7 support system in which the robot can alert a human team of any issues, such as a broken-down elevator or obstacle in its path. Melanson says 97.4 percent of issues are resolved remotely with zero customer involvement.
Currently the TUG robots are primarily being used in hospital settings, but the company is expanding into industrial applications as well. In a manufacturing setting, TUGs transport production materials when needed, deliver carts automatically at the immediate point-of-use and move Works in Progress to the next production location, eliminating time and labor costs.
Melanson and Zini both emphasized the significance of being in Pittsburgh, where they believe there is a great deal of opportunity. Everything the company uses is built and developed in the region, Melanson says.
"Pittsburgh is a place where we make things," Melanson says.