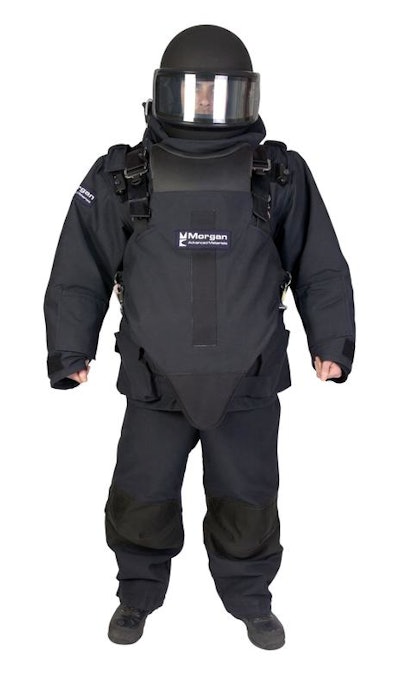 Morgan Advanced Materials' Composites and Defense Systems business announces the debut of its new lightweight ERGOTEC™ 4025 explosive ordinance disposal (EOD) suit. Integrating new technology, leading edge materials and world class garment engineering, the ERGOTEC™ 4025 combines the highest levels of protection with the user mobility required for successful EOD missions. The ERGOTEC 4025™ EOD is available to US law enforcement customers exclusively through Point Blank.
The ERGOTEC™ 4025 features a new streamlined chemical, biological, radiological and nuclear (CBRN) facemask (patent applied for). Fitting under the suit's helmet, the facemask, alongside the CBRN bodysuit, gloves, and foot protection, acts as a critical CBRN shield while maintaining the helmet's streamlined design. Another leading innovation is the suit's quick release mechanisms (patent applied for), allowing the user to self-extract from the suit in an emergency situation in less than 20 seconds.
Further advances include a decoupling breastplate with an innovative three-piece design, providing high flexibility to users. An integrated back protector provides blunt trauma protection while delivering cooling air, and the suit's cooling system fits neatly into the rear of the suit. Available in five different mix and match sizes and a range of colors, the suit can be customized to meet market needs.
"The design of the ERGOTEC™ 4025 suit has focused on disposal strategies involving gathering forensic evidence, which requires high protection with flexibility to enable the user to perform such maneuvers as climbing or crawling," said Martyn Cook, Development Director of Morgan Composites and Defense Systems. "We are confident that this is our most ergonomic, lightweight EOD suit yet, and are looking forward to launching at the Shot Show."
For further information, visit http://www.morgancomposites.com/defence-systems/advanced-armour-systems/eod-suits/.
For sales inquiries, please contact:
Mike Foreman - EVP International Business Development / Federal Sales / Marketing
Point Blank Enterprises, Inc.
2102 SW 2nd Street
Pompano Beach, FL 33069
Local: 954-630-0900
Toll Free: 800-413-5155
Mobile: 407-448-6139
Email: mforeman@pbearmor.com
Website: www.pointblankenterprises.com

For further information, please contact:
Kristin Nugent, McNeil, Gray & Rice Inc. 617 367 0100 ext. 148
kristin.nugent@mgr1.com
Scott Bentley, Morgan Advanced Materials
scott.bentley@morganplc.com
Tel +44 (0)1299 827000
About our Composites and Defense Systems business
The Composites and Defense Systems business of Morgan Advanced Materials makes innovative products using composite materials and specialist manufacturing techniques.
We have extensive capabilities for product design, development, manufacture and test. Our longstanding experience allows us to meet diverse customer requirements from small glass thermoplastic moldings for medical applications to large-scale thermosets for the aerospace industry.
The Composites and Defense Systems business is an established supplier of lightweight armor products for effective protection of people and vehicles. We make a range of combat-proven body armor including helmets and ballistic protection jackets and vests. Our composite vehicles armor systems offer exceptional ballistic and mechanical performance.
________________________________________
About Morgan Advanced Materials
Morgan Advanced Materials is a global materials engineering company which designs and manufactures a wide range of high specification products with extraordinary properties, across multiple sectors and geographies.
From an extensive range of advanced materials we produce components, assemblies and systems that deliver significantly enhanced performance for our customers' products and processes. Our engineered solutions are produced to very high tolerances and many are designed for use in extreme environments.
The Company thrives on breakthrough innovation. Our materials scientists and applications engineers work in close collaboration with customers to create outstanding, highly differentiated products that perform more efficiently, more reliably and for longer.
Composites and Defense Systems is a business of Morgan Advanced Materials, which has more than 9,000 employees across 50 countries serving specialist markets in the energy, transport, healthcare, electronics, security and defense, petrochemical and industrial sectors. Morgan Advanced Materials (MGAM) is listed on the London Stock Exchange in the engineering sector.
For more information on Morgan Advanced Materials visit www.morganadvancedmaterials.com.