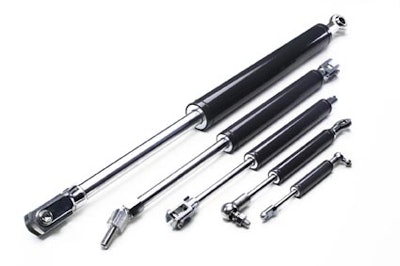 Farmington Hills, MI – July 22, 2015 – Ace Controls has introduced a new line of industrial gas springs whose internal components have been optimized for low friction, consistent operating forces and a long life.

Ideal for medical applications, these NEWTON Line gas springs feature several technical improvements that contribute to their smooth manual operation and durability, including:
New slide bushings and seals that together reduce friction and wear.
Large gas passages and a proprietary valve design that boost NEWTON Line's damping characteristics and create a consistent force profile.
An extended piston rod guide that accommodates high off-axis forces.

Available in cylinder sizes from 15-40 mm, Ace Control's new NEWTON Line springs offer strokes from 20-1,000 mm and forces from 40-5,000 N. The new gas springs are suitable for on-site filling with an optional filling kit and Ace Control's application engineers will size the gas springs on behalf of customers for optimum operation.

The new NEWTON Line industrial gas springs ship from stock within 24 hours. For more information, visit www.acecontrols.com.

Ends

About ACE Controls:
With a commitment to innovation and development for over 50 years, ACE Controls Inc. provides high quality industrial motion and vibration control technology with expanded distribution and supply networks. We offer a wide range of products including industrial and safety shock absorbers, hydraulic dampers, feed controls and gas springs. Based in Farmington Hills, MI, ACE's reach expands to more than 120 stocking distributors in 45 countries.