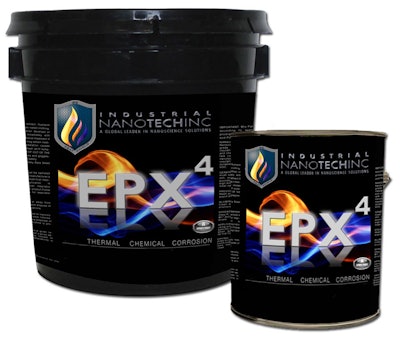 Heat Shield EPX4 - Industrial Insulation & Protective Coating

Heat Shield EPX4, from Industrial Nanotech, Inc.'s patented product line, is used for insulation of surfaces and equipment up to 400F/204C. The product combines multiple attributes: thermal insulation, chemical resistance, corrosion resistance, moisture resistance, and long-term durability. This two-part water based epoxy coating is based upon advanced technology that has been trusted in industry for over a decade. Uses include insulation and surface protection for pipes, tanks, vessels, ovens, and other hot or chilled equipment to insulate, reduce energy use, lower surface temperature, and provide asset protection. In-house thermal testing over metal at uncoated temperatures between 116.7C to 170.5C (242F to 339F) showed an average temperature reduction of 37.22C (67.32F) at the recommended 2-coats EPX4 over 4-coats primer. More coats can be used if desired. Actual results will vary according to application thickness and environmental temperatures.

This thermal insulation coating is designed to provide a better, more advanced, and long-lasting solution for equipment insulation in both indoor and outdoor environments. It is easily applied with a texture sprayer while equipment is in service and is water-based, non-toxic, non-hazardous, and low voc. Appearance is white with a textured/pebbled finish, and can be tinted. For pricing and product details, visit www.nansulate.com/heatshield_epx4.htm. Manufacturer: Industrial Nanotech, Inc. 1925 Trade Center Way, Ste. 1, Naples, Florida 34109 USA. Ph: +1 239-254-0346, Fax: +1 239-254-1381, contact@industrial-nanotech.com.