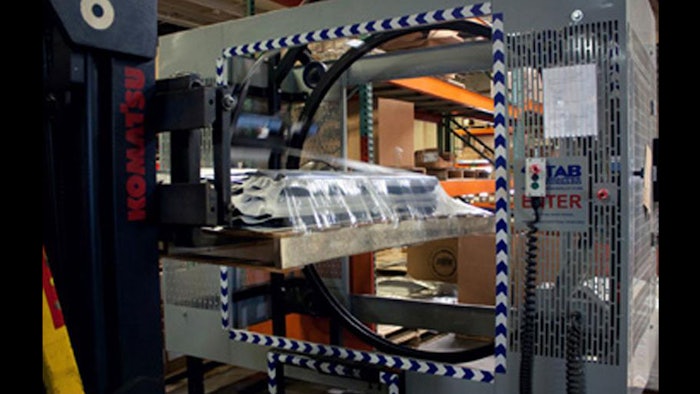 Orbital wrapping machines in the TAB Wrapper Tornado line from TAB Industries, LLC, (Reading, PA), wrap palletized loads to their pallets in as little as 15 seconds to create secure, unitized loads as fast and efficiently as possible and help protect goods from the rigors of warehousing and transportation.
Wrapping 300 percent faster than horizontal turntable wrappers, which require 60 seconds for most loads, the TAB Wrapper Tornado line wraps plastic film 360 degrees under and around the entire pallet load while it is raised on a forklift or fed on a conveyor to establish a more effective wrap than is possible with wrapping machines that cannot attach the load to its pallet, such as horizontal turntable wrappers.

The patent-pending TAB Wrapper Tornado line is available in a choice of three standard models that accommodate 60"x60", 48"x48" and 24"x24" pallets and all in infinite lengths. Custom sizes are also available. The TAB Wrapper Tornado line is proven in wrapping metal products and parts, bagged powders, chemical drums and containers, stone building materials and other products where damage is to be avoided. Manufactured in the company's Reading, PA headquarters, the orbital stretch wrappers ship with a full warranty, fully assembled and ready to plug in and operate.