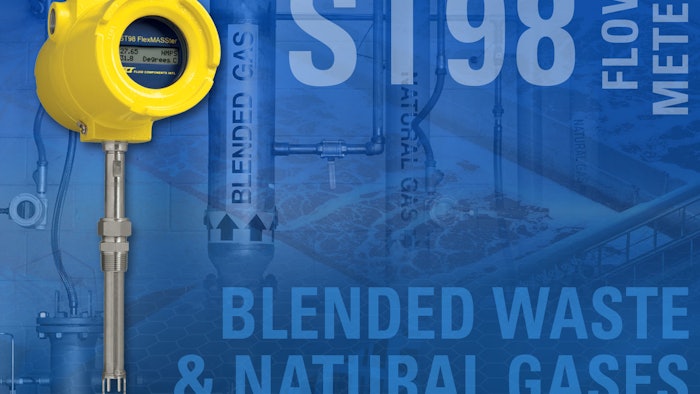 The advanced ST98 Air/Gas Flow Meter from Fluid Components International (San Marcos, CA) measures the blended waste gas and natural gas necessary to keep co-gen electric power systems up and running.
With its thermal mass flow sensor design, the flow meter provides direct mass flow measurement without the need for additional temperature or pressure sensors or density calculating devices. The meter's insertion style configuration makes it simple to install in existing piping without cutting the pipe or welding, offering minimal interruption to plant operations.
The flow meter is suitable for service in biogas and natural gas, as well as numerous other process gases, hydrocarbon mixed or dirty gases and plant compressed air and HVAC systems. This flow meter is today operating in plants worldwide, including industries such as electronics, oil/gas, chemical, power generation, food/beverage, pharmaceutical, pulp/paper, steel, wastewater treatment and more.
The flow meter provides accurate flow measurement over a wide flow range. Accuracy is ±1% of reading, plus ±0.5% of full scale. Exceptionally consistent, the ST98 meter offers repeatability to ±0.5% of reading. The insertion style ST98 meter flow range is from 0.75 to 600 SFPS [0.21 to 172 NPS] in air at standard conditions of 70°F [21.2°C] and 14.7 psia [0°C and 1013,25 bar (a)], typical for most gases.
Learn more at www.fluidcomponents.com.