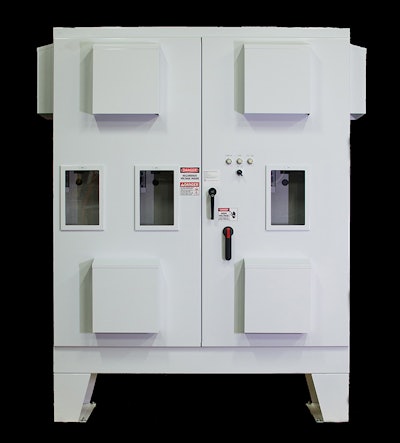 Schaffner Introduces Integrated Standard Active Harmonic Filter Systems to 400A

(Edison, NJ) – Schaffner EMC introduces a complete line of integrated active harmonic filter systems which provide harmonic compensation up to the 50th order in real-time. With a capacities 100, 150, 200, 250, 300, 350 and 400A, operating at 480VAC (+/- 10%), these standard systems provide reactive compensation and load current load balancing. They are ideal for manufacturing environments with nonlinear loads, such as variable frequency-motor drives, Uninterruptible Power Supplies (UPS), HVAC equipment, data centers and banking/heavy computing, and more.

This proven equipment incorporates individually fused ECOsine automatic harmonic filters, high-speed fully digital microcontroller, disconnect switch, door interlock, operator selector switch, indicating lights, alpha-numeric keypad and graphic display, TCP/IP or RS-485 Modbus interfaces for communication. Standard protection enclosures are NEMA1 and NEMA3R with other ratings available upon request. Ideal for new installations or retrofits. Current ratings of from 100 to 400 available as standard, higher current loads can be accommodated to suit particular requirements. Standard electrical rating is 480vac with higher ratings available.
Schaffner active harmonic can meet IEEE 519-2014 electrical system requirements for harmonic current limits. ECOsine® active harmonic filter systems are designed to electronically supply non-fundamental harmonic current of magnitudes and phase relationships to satisfy the non-linear load-current demand that results in a near sinusoidal current being drawn from the electric supply

Harmonics – A Silent But Deadly Problem

Harmonics are generated by nonlinear components in electrical systems, which distort the sine wave. Increasing usage of power electronics causes a corresponding increase in voltage distortion, or harmonics. Electrical components like, variable frequency drives, Uninterruptible Power Supplies, and inverters, all introduce harmonics of differing orders into the electrical system. When harmonics are present they can manifest themselves with short-term and long-term consequences. High harmonic distortion can cause failures or malfunctions of electrical devices. Harmonics also cause a temperature rise in the electrical network and in equipment, resulting in losses and shorter service life. An active harmonic filter, like the ECOsine®, cancels and injects current to correct the sine wave, before the harmonics can cause any damage to the electrical system or equipment.

Schaffner EMC, with US operations headquartered in Edison, NJ, is part of The Schaffner Group – a worldwide leader in the fields of electro-magnetic compatibility (EMC), power quality (PQ) and engineered transformers. From a global innovation and development center in Luterbach, Switzerland, the company develops leading edge products which are manufactured in facilities worldwide. Their PQ product line includes active and passive harmonic filters, along with sine wave filters, which allow the efficient and reliable operation of electrical and electronic equipment and systems. For additional information visit www.schaffnerusa.com, write to them at Schaffner EMC Inc., 52 Mayfield Avenue, Edison, NJ, 08837, or call (800) 367-5566 ext 276.
-###-

.