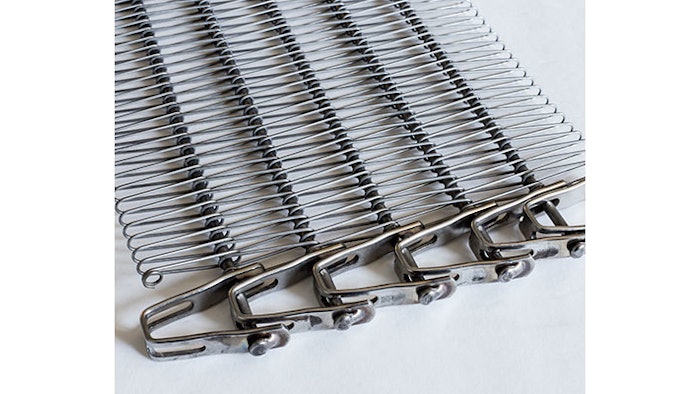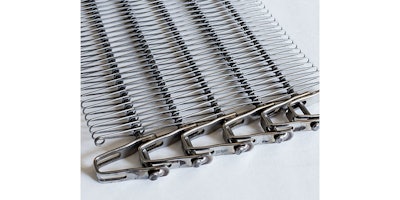 Cambridge Engineered Solutions has unveiled Cam-Grid GP, a new metric-sized product for use on spiral cage systems and other low tension food processing applications. Cam-Grid GP is designed for OEMs and end-users in international and domestic markets with spiral cage systems used for proofing, cooling and freezing processes in bakeries as well as conveyors that move meat, poultry and prepared foods within processing plants
With a 35 mm pitch and 90.7 kg tension rating, Cam-Grid GP is stronger than Cambridge's Cam-Grid belt and equal in strength to standard duty Cam-Grid Xtra.
"We wanted to design a true metric-sized belt that is a sturdier, cost-effective solution for bakeries and processors overseas and within the United States," said Mike Truitt, Cambridge's International Sales Director. "As a result, we can offer Cam-Grid GP at a competitive price, and the customer is able to reduce energy costs due to the greater load capacity in smaller systems."
Cam-Grid GP's extended pitch provides excellent strength-to-weight ratio. It allows product loading from link to link and is fully collapsible for easy cleaning.
Specs
Belt Pitch:  35mm

Turn Ratio:  1.6x to 2.2x belt width

Tension rating:  90.7 kg

Widths up to 1,219 mm

Speeds up to 24mpm

6 Gauge Rods:  4.87 mm

Reverse welds

18-54 count mesh

Mesh overlay available in 16, 17 or 18 gauge

Material:  T304 Stainless Steel
Cambridge Engineered Solutions  www.cambridge-es.com