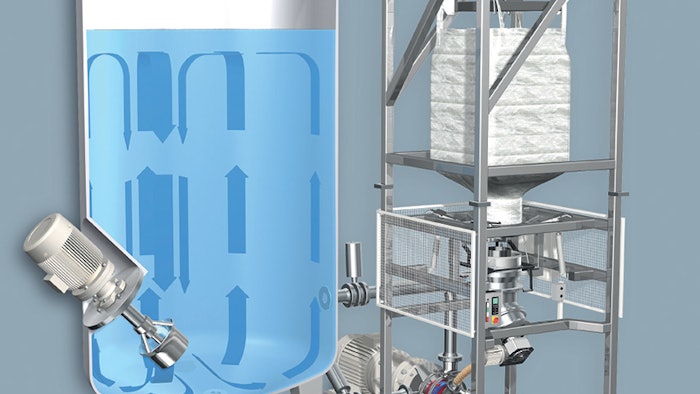 The Ystral Conti-TDS brings major efficiencies to the production process by offering powder induction, wetting and then dispersing of an agglomerate-free liquid – all with one machine. Powder Technologies, Inc., (PTI) exclusive distributor of Ystral powder and liquid processing systems throughout North America, offers the Conti-TDS as one of its solutions for processing applications in the chemical, coatings, food, cosmetics and pharmaceutical industries. The Conti-TDS, which has improved manufacturing processing of products such as: salad dressings, baby food, milk drinks, aromatics, toothpaste, shampoo, natural cosmetics, shaving foam, rub-in gels, tablet coatings, cough syrup, gelatin solutions, artificial resins, cleaning detergents, fibers, plant fertilizers, foils, paints, offset printing inks and textile colors.

The patented Conti-TDS system has been certified by 3-A Sanitary Standards, Inc. (3-A SSI) to meet its sanitary standards and carry the 3-A Symbol. It operates dust-free and loss-free. In a single processing unit, it provides:
• Dust-free powder induction from bags, bulk bags, containers or silos
• Immediate powder wetting and effective dispersion with complete de-agglomeration
• Adaptation to one or several vessels – stationary or mobile – with existing systems installation
• Induction rates up to 800 lbs./min. and shear speed up to 100 ft./sec. with shear gradient 50,000 sec.-1
• Clean-in-place without disassembly
• Transfer to storage tanks with the same machine
The Conti-TDS process allows better reactivity and higher efficiencies for the raw material resulting in a higher quality end product with no agglomeration. It also minimizes production time and completely avoids partial processing steps, thereby minimizing costs.

The Conti-TDS is based on an inline dispersing machine. Its rotor stator system transports and disperses liquid with high shear energy resulting in a liquid flow through the dispersing chamber that builds up a high induction vacuum. This vacuum in turn inducts powder with no agglomeration, without emitting dust into the environment or leaving any powder in the bottom of its container, thereby eliminating product waste that so often occurs with powder induction into liquid.

Typical installation for the Conti-TDS is within a recirculation operation attached to a vessel. It easily integrates into existing processing systems and can be attached to several vessels or mobilized to work in different production areas. Product changes are easy to handle. It can provide continuous processing by working in flip-flop, a combination of batch and storage tank or as a min/max processing system. The same machine can also provide a continuous inline process. Several powders may be inducted and dosed in a given sequence; swelling and dispersing time can be adjusted. For extremely high viscosity products such as offset printing inks, silicon sealants, knifing filler or glue, the machine is used in combination with a volumetric pump.

For more information, call 609-914-0521 or visit www.powdertechusa.com.