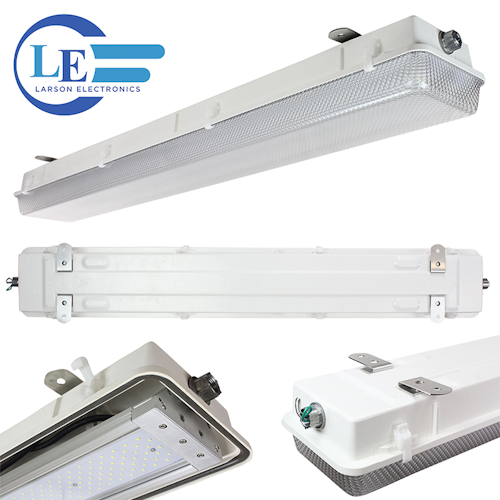 Longtime leading supplier of explosion proof lighting equipment Larson Electronics has announced the release of a Class 1 Division 2 integrated LED light fixture that is specifically designed to handle the rigors of wet and corrosive marine environments.

The HALP-48-2L-ITG-LED hazardous location light from Larson Electronics is a four foot single lamp integrated LED light fixture that is ideal for operators who seek a top quality fixture that reduces operating costs, improve lighting quality, and reduce down time from incurred frequent servicing intervals. This fixture is equipped with a specially designed integrated LED array which produces 19,200 lumens of bright light in a 160° wide flood beam spread. The integrated heat sink allows for efficient heat dissipation, preventing the LEDs from overheating and keeping the overall temperature of the fixture relatively low. The LED array is protected by a polyester housing reinforced with glass fiber, a poured in gasket for reliable sealing and an impact resistant acrylic diffuser. Eight corrosion resistant plastic latches secure the lamp cover to the housing and provides a firm lock against the poured in seal to prevent drips and water intrusion. This fixture carries a T4A temperature rating and is UL 1598A marine type approved for use in marine environments. This new fixture is weatherproof and provides operators in hazardous locations with a highly efficient, reliable, and affordable lighting solution for open areas where flammable chemicals and vapors may be present. This LED light fixture is standard surface mounted via two flange type stainless steel mounts attached to each end of the fixture that enables it to be secured to any flat surface. These fixtures may also be pendant mounted, which hang from the ceiling and are suspended by rigid pipe. This class 1 division 2 LED light fixture is universal voltage and operates on any voltage ranging from 90 to 305 volts AC or 127 to 431 volts DC.

For more visit Larsonelectronics.com.