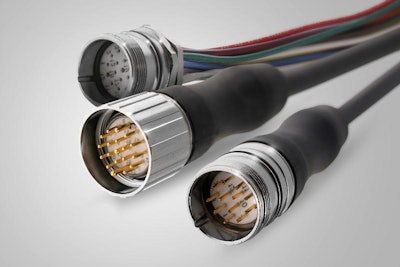 The versatility of the M23 series makes it perfect for applications such as servo drives, motors, and encoders. The 12 and 19 pin configurations are commonly used for standard industrial signal and control applications as well. The "M23" refers to the size of the thread used to mate the cable to the receptacle.

Along with being the only manufacture to offer M23 receptacles in ½" NPT shells, Mencom offers a wide variety of color codes to match your application needs. Please contact us to discuss your needs.

Mencom manufactures 12, 16, 17, & 19 pole over-molded cables. These cables are available with straight or right angle heads. The 12 and 19 pole are made with rugged PUR jacket material while the 16 and 17 pole utilize a weld resistant TPE jacket. All cables are available in many standard off the shelf lengths. For custom applications please contact the factory. The mating receptacles are available with ½"NPT, Panel Mount, M20 or M20-long (for thicker panels) mounting threads. The standard shell material is nickel plated brass, while the M20 is also available in stainless steel.