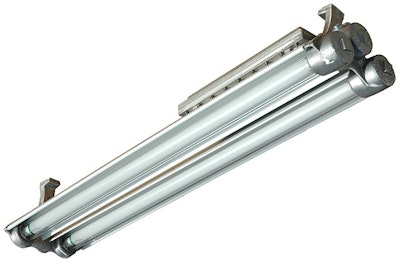 Larson Electronics has announced the release of an explosion proof four lamp fluorescent light fixture that is equipped with a dimmable ballast.
The EPL-48-2L-T8-D from Larson Electronics is an ideal lighting solution for areas where flammable petrochemical vapors and pulverized dust exist. This two lamp four foot long fixture has a T6 temperature rating and comes standard with two T8 fluorescent lamps. The lamps are protected by heat and impact resistant Pyrex tubes and the fixture is constructed of copper free aluminum alloy. The lamp reflectors are corrosion resistant heavy gauge aluminum and coated with a high gloss reflective finish. This fixture is multi-voltage capable and is equipped with a dimming ballast.
This fixture is multi-voltage capable and is equipped with an Advance Mark 7 dimming ballast and is shipped with surface mount brackets unless otherwise specified. Each bracket is cinched to the bracket mounting peg on each side of the light. The angle of the bracket is set by tightening two cap screws on either side of the bracket. The cap screws act as a set screw. The bracket itself is mounted via a single bolt hole at the top of the bracket. Once the brackets are mounted to a surface, the light can be removed from the brackets by loosening the cap screws that hold the bracket to the mounting peg. This fixture provides operators in hazardous locations with a reliable and affordable lighting solution that provides the best explosion proof protection available without sacrificing light quality or fixture durability.

For more visit www.Larsonelectronics.com.