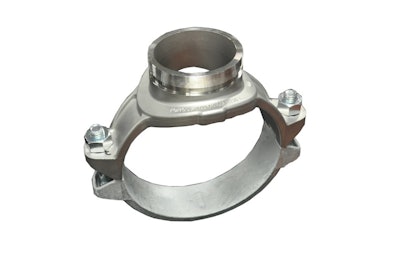 Victaulic introduces the Style 422 Stainless Steel Mechanical-T Bolted Branch Outlet, a mechanical solution that creates a direct branch connection at any location a hole can be cut in pipe. The Style 422 mechanical tee enables safer, more efficient installation and maintenance and ensures long-term reliability.

The Style 422 stainless steel mechanical tee is faster, easier and safer to install than welded branch connections, and reduces total installed costs. A branch connection can be created in three steps: cut a hole in the pipe, install the mechanical tee, and join the grooved outlet to the branch piping with a Victaulic coupling. Welding is not required, reducing installation time and costs and eliminating fit-up issues and safety concerns as well as the need for pickling and passivation. With a union at the joint, the grooved outlet simplifies maintenance compared to welded branch connections.

The Style 422 mechanical tee contains a "holefinder" locating collar and pressure-responsive gasket, ensuring long-term reliability. The hole in the pipe is oversized to receive the locating collar, which secures the outlet in position and prevents the tee from moving once installed. The pressure-responsive gasket seals on the outside diameter of the pipe, providing leak-free operation.

The stainless steel mechanical tee is ideal for corrosive environments as well as applications requiring compliance with the Reduction of Lead in Drinking Water Act. When used with an EPDM gasket, the Style 422 is NSF Certified in accordance with ANSI/NSF 61 for cold and hot potable water service and ANSI/NSF 372.

The Style 422 mechanical tee is available in sizes ranging from 3x2 inches (80x50 millimeters) to 8x4 inches (200x100 millimeters). All sizes are rated at 300 psi (2,065 kPa) working pressure on Schedule 10S and 40S stainless steel pipe. The Style 422 may also be used on high-density polyethylene (HDPE) pipe. The tee is supplied with a stainless steel outlet housing and galvanized ductile iron strap, and is available with an EPDM or nitrile gasket.

For more visit www.victaulic.com/industrial.