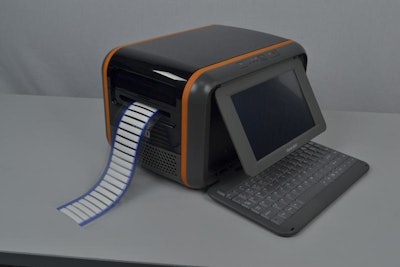 Graphic Products has released a new line of ladder shrink tube, streamlining wire and cable wrapping in the industrial workforce. The cable markers come in five sizes and can easily slip over the end of wires or tubes, and shrink tight with the application of a heat gun. Shrink tube is commonly used in component manufacturing and by electricians and foremen to identify and organize materials on the job site or in the office. The ladder-style tubing was created for the DuraLabel Toro labeler and printer, which allows users to customize and print messages directly on the shrink tube.

The shrink tube is constructed from a cross-linked halogen-free polyolefin, providing environmentally-friendly wire marking solutions, with the toughest durability. The cross-linked material can withstand the harshest thermal, physical, and chemical resistance and meets the following industry standards: UL224 – Extruded insulating tubing, CAN/CSA C22.2 standards, VW-1: Vertical wire flame test, and RoHS: The Restriction of Hazardous Substances.

DuraLabel Ladder Shrink Tube specs include:
Shrink Ratio: 3:1
Expected Interior Life: Two years
Service Temperature: -67°F to 257°F (-55°C to 125°C)
Minimum Shrink Temperature: 185°F (85°C)
Inside Diameter Sizes: 1/8" x 1.97", 3/16" x 1.97", 1/4" x 1.97", 3/8" x 1.97", 1/2" x 1.97"
Color: White
For more visit www.GraphicProducts.com.