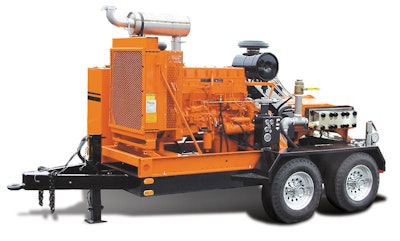 A new high-pressure water jet pump unit from NLB Corp., the Model 350, combines an innovative new fluid end design with a rugged 350 hp (261 kW) diesel engine in a unit that can be easily towed to job sites. It is the latest model in the popular NLB 225 Series of convertible pump units.

The Model 350 is rated for a maximum operating pressure of 20,000 psi (1,680 bar) and can be quickly converted to operate at other pressures (8,000 psi, 10,000 psi, 15,000 psi) with a simple conversion kit. Flows range from 26 gpm to 63 lpm (98 lpm to 238 lpm). The rugged, trailer-mounted unit minimizes its overall footprint with internal gearing that eliminates large pulleys and belts.

The Model 350 is one of many NLB pump units that can be ordered in an UltraGreen configuration, assuring compliance with the latest Tier 4F emission requirements for diesel engines from the Environmental Protection Agency while significantly reducing operating costs.

With the introduction of the Model 350, NLB's range of convertible water jet pump units now includes 30 models, more than any water jet pump manufacturer.

For more visit www.nlbcorp.com.