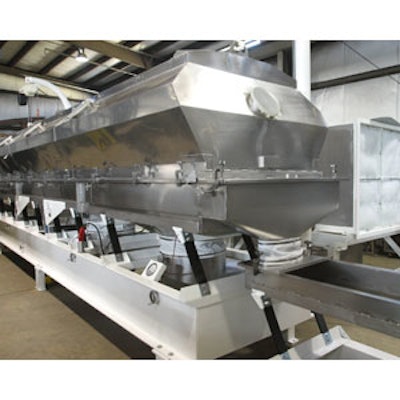 Vibrating fluid bed dryers from The Witte Co. feature multiple temperature-control zones that operate independently to permit a variety of different heating and cooling levels in the same continuous drying system. According to the company, the system comes with:
Substantial moisture removal at a relatively high temperature in the first heating zone, while gradually lower temperatures in each successive heating zone achieve the final desired moisture content.

More drying capacity in pounds per hour per square foot of dryer deck than ordinary dryers, which restrict moisture removal to a single temperature throughout the process.

Reduced product degradation, including charring and discoloration, so the particle structure remains intact and product waste is virtually eliminated.

Increased drying efficiency that allows many high-volume processes to meet moisture specifications using a more compact dryer on a smaller footprint. 

Ideal suitability for gently drying snack chips, grains, cereals, pharmaceutical powders, and other sensitive or delicate products.