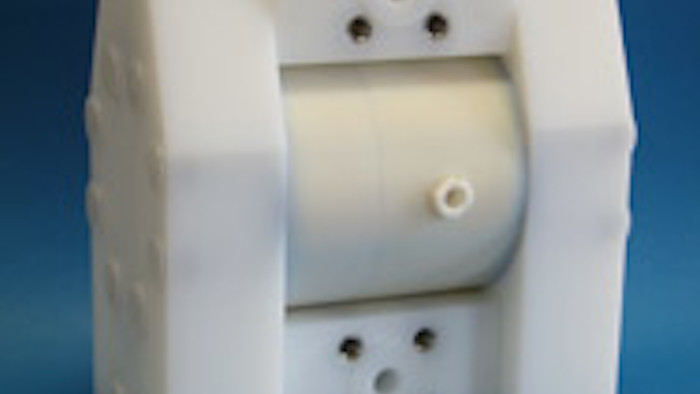 Almatec®, a premier manufacturer of air-operated double-diaphragm (AODD) pumps, is pleased to announce that the design of its plastic AH Series high-pressure AODD pumps gives them a number of characteristic advantages when feeding filter presses with chemical wastes and special sludges. The pumps:
Are designed without drives, rotating parts or rotary shaft seals.

Offer dry-run capability, good controllability and a gasket-less mechanical design, which makes operating against a closed discharge possible.

Feature a compressible drive medium that permits gentle product delivery with attenuated pressure peaks.

Are available in three sizes, based on their maximum delivery volume: AH 15 (70 lpm/18.5 gpm), AH 25 (180 lpm/48 gpm) and AH 40 (330 lpm/87 gpm).

Have a driving maximum pressure of 7 bar with an internal boost that can build delivery pressure to as high as 15 bar.

Feature compact dimensions, easy start-up, a corrosion- and abrasion-proof housing, heavy-duty diaphragms, maintenance-free PERSWING P® air-control system, and DIN and ANSI flange connections.

Feature properties that readily allow the pumps to be used in filter-press applications: at the beginning of the process, low filter resistance causes delivery of a large volume of fluid, which fills the empty filter press rapidly; the rising fluid typically causes the volume to reduce automatically until the required standstill is reached at the maximum permitted pressure — but, unlike mechanically driven diaphragm pumps, the AH pumps stop and do not consume any further energy, which permits operation over a complete range of delivery volumes without any risk of excess pressure building up.