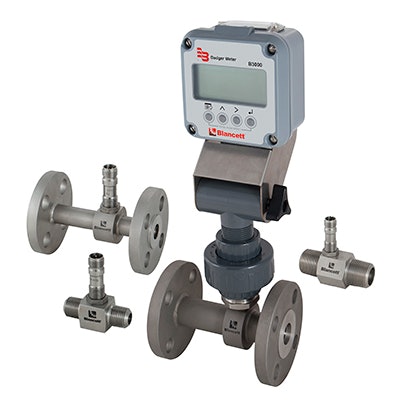 Press Release

For Release: December 1, 2015

Contact Information:
Jay Schoenwaelder
[email protected]
877-243-1010

NEW BLANCETT® B1500 SERIES TURBINE FLOW METERS PROVIDE ACCURACY AND RELIABILITY, AT A COMPETITVE PRICE WITH POWERFUL DISPLAY OPTIONS

MILWAUKEE, Wis. – Badger Meter introduces the new Blancett® B1500 Series Turbine Flow Meter, designed to perform in harsh environments found in the oil and gas, and petrochemical industries. A cost-effective option for highly accurate and reliable flow measurement, B1500 flow meters are an ideal solution for standard clean, filtered liquid flow applications in precision industrial processes, such as batching, blending, filling, or general flow measurement.

B1500 Series turbine flow meters feature exceptional mechanical linearity, which increases useable flow range and helps mitigate output variance caused by viscosity fluctuations due to changes in fluid temperature. Using a helical rotor design with high-performance ceramic ball bearings, B1500 meters are able to achieve exceptional speed-of-response and minimal pressure drop. Ceramic bearings are also lighter, more tolerant to extreme temperatures and produce less friction than stainless steel ball bearings, which are commonly found in other turbine meters.

As an added benefit, B1500 flow meters are easily coupled with B3000 flow monitors to provide an economical, robust flow metering solution, with multiple local read and system integration options. Flow rates and totals are presented simultaneously via a crisp dot-matrix LCD display and/or transmitted to a user interface via Modbus RTU, a 4...20 mA analog output or totalizing pulse output. Basic, advanced and solar-powered configurations provide users with flexibility to meet the needs of unique applications.

B1500 Series meters are available in nominal line sizes from ¼…2 inches with an accuracy rating of ±0.25% of reading, when linearized with a B3000, and repeatability of ±0.02% of reading. Ideal flow ranges vary between ¼...250 gallons per minute depending on line size. The B1500 Series meter is constructed of 316 stainless steel and is available with either ANSI flange or NPT end fittings.

B1500 Series turbine flow meters come calibrated and traceable to NIST standards, are in stock and ready to ship. With quick product availability and advanced electronic integration options, backed by experienced application support personnel, the Badger Meter Blancett B1500 Series is an ideal solution for your critical flow measurement needs.

Feature / Benefit
Feature: Expanded mechanical linearity
Benefit: Increased usable flow range with less sensitivity to fluid temperature/viscosity effects.

Feature: Helical rotor design
Benefit: Exceptional speed-of-response, with reduced pressure drop.

Feature: High-performance ceramic ball bearings
Benefit: Ceramic bearings provide near-perfect roundness, higher Rockwell hardness and are lighter and more tolerant to temperature than 440C stainless steel bearings. They eliminate adhesive wear and perform well in non-lubricating liquids found in cryogenic fluids and water.

Feature: 6-bladed rotor supports
Benefit: Improved flow conditioning.

Feature: Facility with NIST traceable standards
Benefit: Third party audits to ensure calibration uncertainty. Laboratory correlation to verify that all calibrators produce the same result.

For more information about B1500 Series turbine flow meters, please visit https://www.badgermeter.com/business-lines/flow-instrumentation/b1500/ or call 1-877-243-1010.

About Badger Meter

Badger Meter is an innovator in flow measurement and control products, serving water utilities, municipalities, and commercial and industrial customers worldwide. The company's products measure water, oil, chemicals, and other fluids, and are known for accuracy, long-lasting durability and for providing valuable and timely measurement data. For more information, visit http://www.badgermeter.com.