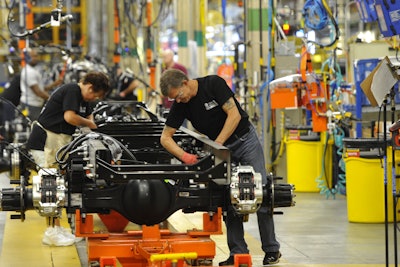 DEARBORN, Mich. (AP) — Ford says it will book a $600 million fourth-quarter expense mainly for signing bonuses paid to union workers under a new four-year contract.
But the company says the deal with the United Auto Workers limits labor cost increases to 1.5 percent per year and is consistent with its full-year financial guidance.
Ford executives were to hold a conference call on the agreement Monday.
CEO Mark Fields says in a statement that the deal allows wider use of temporary workers and lifts a cap on entry-level wage employees. It also allows more flexible work schedules.
Ford also agreed to $9 billion in U.S. factory investments and said the deal would add or secure 8,500 U.S. factory jobs. Workers will get $8,500 in signing bonuses plus $1,500 in early profit sharing.