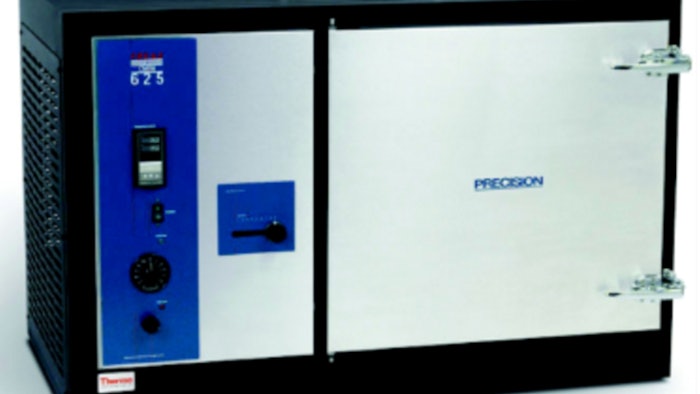 High-Performance Ovens Offered by Terra Universal
Fullerton, CA – Temperature uniformity to within 0.5C is the hallmark of Precision™ High-Performance Ovens from Thermo Fisher Scientific. Drying and heating applications for materials, environmental samples and pharmaceuticals are performed in the standard mechanical convection ovens, while volatile material testing uses the optional air-flow baffles or rear blow-out modules.
High-efficiency insulation and a resistance thermometer (RTD) sensor work together to create the stable environment. The ovens' temperature range is 15C to 325C (59F to 617F) with sensitivity down to 0.1C; safety measures are built in to protect the oven interior from fluctuations due to power surges. An LED control pad displays the actual and set-point temperatures, and personnel can use the adjustable 12-hour timer to control heating cycles.
Two non-tip nickel-plated shelves are included, but the steel ovens can hold several (based on capacity). Chamber volumes are 1.4 cu ft, 4.0 cu ft, and 9.5 cu ft. Turbo blowers are side-mounted for efficient drying of samples.
Laboratory-Equipment, a Terra Universal brand, offers hundreds of top-tier laboratory instruments and supplies. Learn more about the Precision High-Performance Ovens from Thermo Fisher Scientific by visiting Laboratory-Equipment's website.