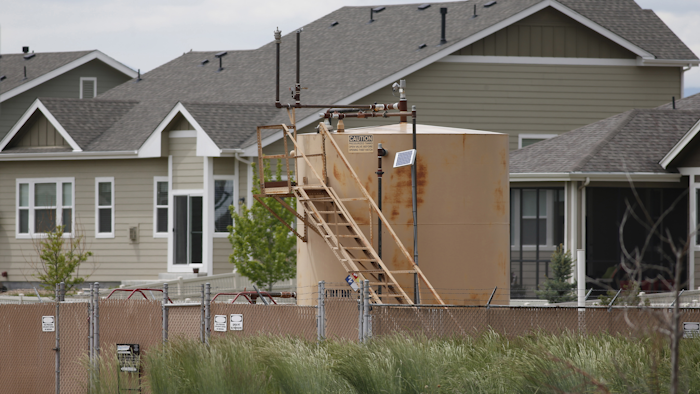 DENVER (AP) — Coloradans probably won't get a chance to vote on whether to impose tougher restrictions on the oil and gas industry in November because two proposed ballot measures failed to get enough signatures to make the ballot, the state's top election official said Monday.
The announcement by Secretary of State Wayne Williams was another setback for activists who want to keep drilling rigs and other facilities — especially those involved in hydraulic fracturing — farther from houses and schools.
It's a contentious issue in Colorado, where oil and gas fields sometimes overlap fast-growing cities.
Colorado is the nation's No. 7 energy-producing state, and the stakes were high enough that an industry-backed committee collected $13.4 million this year to defeat the issues, state records show.
One proposal would have required new wells to be at least 2,500 feet from homes and schools. The current requirement is usually 1,000 feet.
The other would have given local governments authority to restrict or ban energy development, a power now held almost exclusively by state regulators.
Williams said random samples of both petitions showed that enough signatures would be rejected as invalid that neither would have the 98,492 required. Sampling is standard for assessing petitions in Colorado.
Williams also said the setback petition had several potentially forged signatures and were referred to the attorney general for investigation.
Backers of the measures have 30 days to appeal. Williams said he didn't think an appeal would succeed because the samples indicated both petitions would fall short by about 20,000 signatures.
The backers, a group called Yes For Health and Safety Over Fracking, haven't decided whether to appeal, executive director Tricia Olson said.
"Today's announcement is not the final action on this issue as countless residents are now committed to protecting their children's schools, parks and homes," she said.
Only three signatures are being questioned as possibly forged, said Suzanne Spiegel, a spokeswoman for Yes For Health and Safety over Fracking.
"We are looking into it, but we are really proud of what we've accomplished, and we're going to explore all possible avenues to ensure that every valid signature is counted," she said.
Industry groups welcomed the news about the petitions falling short.
"Colorado voters recognized that these extreme measure would destroy the state's economy and take away private property rights," said Karen Crummy, a spokeswoman for Protecting Colorado's Economy, Environment and Energy Independence.
Gov. John Hickenlooper, who didn't support either proposal, said energy companies in Colorado want to do the right thing.
"Obviously, the shared goal is that we want any kind of activity to be safe as possible to the quality of — air quality or water quality," he said in an interview with The Associated Press.
Drilling near homes and schools worries some Coloradans, who cite health, safety and environmental concerns and around-the-clock noise and vibration from drilling.
Hydraulic fracturing, or fracking, exacerbates the controversy. Fracking injects a high-pressure mix of water, sand and chemicals to break open underground formations and free up oil and gas. The industry insists it's safe.
Supporters of tighter energy rules achieved modest gains when a task force convened by Hickenlooper recommended last year that the state guarantee local governments a chance to comment on proposed wells and other facilities but not the power to regulate them.
The industry won a big victory this year when the state Supreme Court ruled local governments can't regulatefracking.
Proponents of tougher rules will keep trying, said Tanya Heikkila, an associate professor at the University of Colorado Denver who studies fracking policy.
"I see this as a sort of chronic and long-term debate," she said.