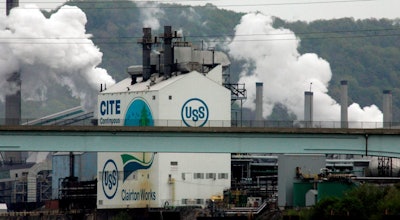 U.S. Steel plans to spend at least $750 million to upgrade a century-old steel mill along northwestern Indiana's Lake Michigan shoreline.
Company and government officials said Thursday that the project will help preserve Gary Works' nearly 3,900 steelworker jobs, and could help ensure the 112-year-old mill lasts another century.
The investment accounts for more than a third of U.S. Steel's $2 billion asset revitalization program. The company had been criticized for not spending enough on equipment at mills such as Gary Works during the steel industry's recent downturn. The lack of funding crippled the company's production when the industry began rebounding, causing U.S. Steel to lose money.
Indiana is rewarding the company for its investment by giving up to $12 million in incentives, including tax breaks and worker training grants.