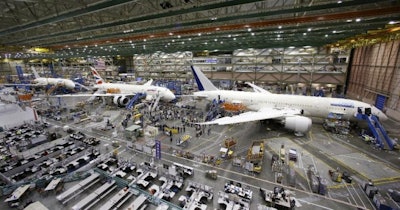 Dozens of U.S. industrial leaders singled out predictive data as the most important technological factor to their future competitiveness, according to a recent survey.

Professional services firm Deloitte and the D.C.-based nonprofit Council on Competitiveness issued a report based on interviews with nearly three dozen manufacturing company executives as well as national laboratory and research facility directors.

The executives weighed in on 10 advanced manufacturing technologies and identified predictive data analytics as the most critical to growth.

"Analytics, in a variety of forms, is at the top of the list," said Deloitte vice chairman Craig Giffi.

READ MORE: The Next Industrial Revolution?

The report estimated that the market for artificial intelligence and machine learning would climb from less than $1 billion in 2013 to $36 billion this year, the result of "exponential" growth in data capture technology, computing power, smart algorithms and machine learning.

In addition, the report said that machines and devices connected to the Internet of Things would jump from nearly 5 billion this year to 25 billion over the next decade, and that the global IoT market would increase from $1.9 trillion in 2013 to $5.6 trillion in 2019.
Advanced robotics, meanwhile, should grow from $28 billion to $38 billion between 2013 and 2019.

Company officials, Giffi said, were optimistic about competing globally with advanced technologies, but they also had questions about acquiring sufficient resources and talent.

"Most of them would say that they're not currently having extraordinary problems, but as they do the math [regarding their employees] ... it's a concern," Giffi said.

Executives also highlighted the importance of advanced materials to future competitiveness.

The market for advanced ceramics and composite materials — which offer high strength and stability at light weights — is expected to more than double to $56 billion between 2013 and 2019.

Lightweight metals and alloys, which cost less to produce, should increase from a market value of $113 billion to more than $138 billion over that span.

Other materials technologies, while considerably smaller, are also expected to grow substantially in coming years.

Critical materials, which include those with magnetic, catalytic or other properties essential to clean energy development, should grow from nearly $7 billion to more than $10 billion.

Bio-based polymers — or plastics derived from renewable sources — will grow from $1.2 billion to $3.3 billion.

Giffi said that although industry leaders are often wary of the involvement of the public sector, advanced manufacturing could use the help of national laboratories for the science underlying the development of next-generation materials.
"It's hard for the private sector to make the dramatic investments in basic science in today's climate of impatient shareholders and stakeholders," Giffi said.

The report said that advanced industries, with $2.7 trillion in output, already support 17 percent of the nation's GDP, along with 40 million workers.

Analysts, however, cautioned that nations need to continuously invest in manufacturing research and development and warned that U.S. R&D spending as a percentage of overall GDP is lagging.

Executives also said that the country's regulatory environment should be more predictable and responsive to changing markets, and that R&D tax credits and corporate taxes should be increased and decreased, respectively, to keep pace with other developed nations.

Giffi said that he "certainly wouldn't hold my breath" for those changes as the presidential election swings into high gear, but he added that sooner would be better for the manufacturing economy.

"Those delays ultimately have a compounding effect in terms of the investment, or the lack of investment, for companies that are concerned, sitting on the sidelines, looking for clarity," Giffi said.