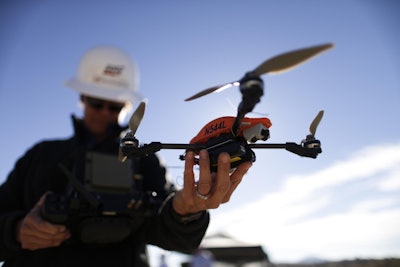 A federal panel recommended that drone hobbyists register with the Federal Aviation Administration prior to operating their unmanned aerial vehicles.

The FAA this week released the report of its unmanned aircraft task force rulemaking committee.

The panel, which included industry groups, drone manufacturers, retailers and aviation officials, suggested that drone operators fill out an online or app-based registration form with their name and address.

The user would then receive an immediate electronic certificate and a personal registration number. Either that number or a drone serial number registered with the FAA would need to be affixed to the aircraft prior to flight. The registration number could be used on multiple drones.

Registration would be free and would not apply to drones weighing less than 250 grams, or about 9 ounces. Registrants would also need to be 13 years of age or older.

The panel recommended that the registration process include an educational component and called on lawmakers to reassess penalties for noncompliance. Their report noted that current aircraft violations were meant to target much more serious crimes, such as drug trafficking and tax evasion.

The group said that the rules should aim to ensure accountability among drone users while promoting widespread compliance and promoting the drone industry.

"The task force approached its discussions of the registration process with two goals in mind — to ensure accountability by creating a traceable link between aircraft and owner, and to encourage the maximum levels of regulatory compliance by making the registration process as simple as possible," the report said.

The FAA announced the task force in October in hopes of approving registration requirements for hobby drones later this year. The task force findings are not binding but could find their way into final FAA standards.

Drone use in the U.S. exploded in recent years amid increasing concerns about privacy violations and aviation safety. The Consumer Technology Association, a trade group and task force participant, estimated that 400,000 drones would be sold during the U.S. holiday shopping season alone.

Although the report said that the simplicity of the recommendations allowed its members to reach a consensus, some stakeholders were still unhappy.

"Unfortunately the task force recommendations may ultimately prove untenable by requiring the registration of smaller devices that are essentially toys and do not represent safety concerns," Dave Mathewson of the Academy of Model Aeronautics, another panel participant, said in a statement.