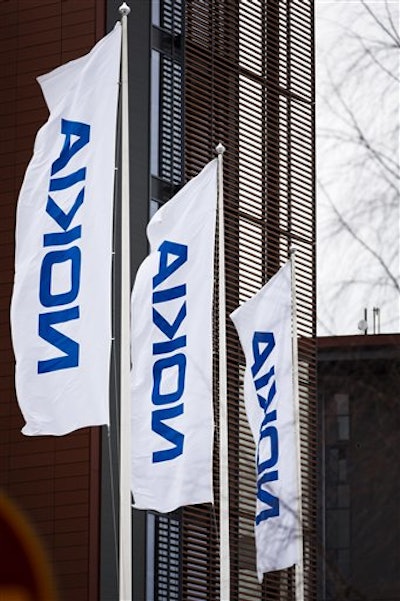 HELSINKI (AP) — Nokia said Tuesday it's in advanced talks to buy the ailing French telecommunications company Alcatel-Lucent, but that there was no certainty about the outcome of the discussions.
In a brief statement, Nokia Corp. said the two companies are in negotiations "with respect to a potential full combination which would take the form of a public exchange offer by Nokia for Alcatel-Lucent."
Nokia stock plunged more than 6 percent in Helsinki to 7.26 euros in midday trading while Alcatel-Lucent, which has been losing money since its creation in 2006, saw its share price leap more than 12 percent in Paris. That put Alcatel-Lucent's market value at 12.2 billion euros ($12.9 billion).
The Finnish company gave no details of the talks and denied further comment except to say that a further announcement would be made when appropriate.
The former world top mobile phone maker, which struggled to compete with Apple's iPhone, Google Inc.'s Android operating system and cheaper handsets from Asia, has made a turnaround since selling off its lossmaking handset business to Microsoft a year ago.
Nokia now has three remaining sectors: networks, mapping services and technologies and patents. It expects growth this year in all of them after a good fourth quarter result in 2014, when it reported a net profit of 443 million euros ($502 million) and sales growth of nearly 10 percent to 3.8 billion euros.
Alcatel-Lucent, which has racked up billions of euros of losses and undergone repeated rounds of restructuring since the 2006 merger of France's Alcatel and U.S.-based Lucent Technologies, said in 2013 that it plans to lay off 10,000 workers. Last year it made a net loss of 118 million euros.