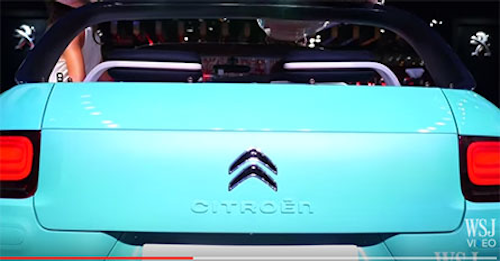 As the 2015 Frankfurt Auto Show continues to roll along, global automakers show off what they've been working on.
Here's a look at news coming from the show including Citroen's Cactus M, Mazda's crossover concept and Peugeot's plan to sell cars in Iran. 
CITROEN
What's the 'fun' car American's can't have? The Citroen Cactus M concept car. Dan Neil runs through all the features of this beach vacation vehicle.
MAZDA
Do you know what's hard? Building an attractive crossover. Dan Neil explains why he thinks the Mazda Koeru concept crossover works.
PEUGEOT
Carlos Tavares, chairman at Peugeot-Citroen, talks with Hans Nichols about plans to sell automobiles in Iran, expanding the brand into China, the serious issues the company faces in Brazil and how the automaker would be impacted by a Federal Reserve rate hike. 
In case you missed it, check out more Frankfurt Auto Show news including: Toyota's latest concept vehicle to receive the thumbs up for production, new features to the BMW 7 series and Lamborghini's expected great sales year.
You should also check out yesterday's news from the show including: Jaguar's new SUV, Renault-Nissan's Chinese auto production and Rolls-Royce's new convertible.